The face and neck are among the first areas of the body to show obvious signs of aging. The sun, genetics, health issues, stress, weight fluctuations and certain lifestyle choices can lead to premature aging of the face and neck. To help restore youth and vitality to these areas, board-certified plastic surgeon Steven H. Turkeltaub, MD offers facelift surgery using state-of-the-art techniques.
What Is a Facelift?
Also known as a rhytidectomy, a facelift is the surgical procedure that can reverse signs of aging and restore a more youthful appearance to the face. Dr. Turkeltaub's aesthetic sensibilities allow him to accomplish this rejuvenation employing techniques that will yield a more natural outcome. This entails the removal of excess skin, re-positioning of tissues in a more natural way and even adding volume to obtain a more youthful look through fat grafting. However, if wrinkles are the primary concern, treatments such as BOTOX® Cosmetic, CO2 laser facial skin rejuvenation, dermabrasion and chemical peels may be more suitable options.
What Are the Benefits of Facelift Surgery?
Facelift surgery offers a number of benefits for both women and men seeking facial rejuvenation. Depending on your unique needs and aesthetic desires, treatment can be customized to help resolve:
Moderate to significant lines, wrinkles and creases
Loose, sagging skin and tissue in the lower face and neck
Lax underlying musculature in the lower face and neck
Volume loss and/or displaced fat
Jowling
It should be noted that although facelift surgery is regarded as one of the most comprehensive cosmetic facial procedures available, it will not directly affect the eyes or forehead region. As a result, eyelid surgery and/or brow lift surgery should be considered in combination with a facelift if you wish to simultaneously address signs of aging in one or both of these areas.
What Is the Best Age for a Facelift?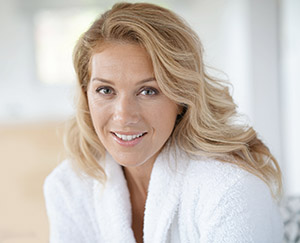 The development of facial lines, wrinkles, sagging skin, tissue laxity and numerous other aesthetic concerns are inevitable components of aging. However, due to factors such as one's particular environment, genetics, hobbies and overall lifestyle, these cosmetic issues do not always manifest at the same point in time or to the same extent for every person. Furthermore, a growing percentage of the population is choosing to receive injectable treatments or to follow skin care regimens earlier in life which often helps to delay the desire and/or need for cosmetic surgery.
With this in mind, there is not a specific age that plastic surgeons consider to be "ideal" for undergoing a facelift. In actuality, facelift surgery may be an appropriate option for one 40-year-old while it might not be right for another patient who is also 40. This is true for individuals of all ages, including people in their 30s, 50s, 60s and beyond. However, the results are always better when skin elasticity is better as opposed to being extremely poor as a consequence of advanced sun damage or smoking.
Above all else, a person's natural aging process, life experiences and aesthetic concerns/goals will determine the optimal timing for facelift surgery.
How Is the Facelift Procedure Performed?
The facelift procedure involves the tightening, contouring and repositioning of the skin and underlying tissues of the lower face and neck. The incisions in a facelift are placed in front of the ear and continue up into the scalp as well as behind the ear, extending back into the scalp. These incisions usually heal very well and generally are fairly inconspicuous.
A majority of patients who undergo a facelift choose to combine it with other facial rejuvenation procedures such as eyelid surgery and a forehead lift. The goal of a facelift is always to create a natural and harmonious look and avoid an over-operated and stretched "mask-like" appearance. Fat grafting is frequently indicated as well to allow for superior results.
If you are considering a facelift or other facial rejuvenation procedure, contact our office today. We can help you decide the best course of action in order to achieve optimal results. For further information about facelift surgery, please view our facelift FAQs (frequently asked questions).
What Is a Midface Lift?
The midface lift is a facial rejuvenation procedure specifically designed to improve the appearance of the midsection of the face, roughly the area extending from below the eyelids down to the creases around the upper lip where prominent signs of aging can occur. The midface lift is potentially ideal for those who wish to achieve more subtle rejuvenation of the face and do not require the results that are possible with a full facelift.
A midface lift is often combined with blepharoplasty on the lower eyelids to produce an even more natural, revitalized appearance.
What Is Recovery from a Facelift Like?
Postoperative discomfort following facelift surgery is usually mild and well-tolerated. Some degree of bruising and/or swelling is common, though these side effects will resolve with time. The majority of individuals look and feel well enough to go out in public or return to work between one and a half to two weeks but must avoid all strenuous activity for a total of around three to four weeks postoperatively. This includes refraining from heavy lifting, vigorous exercise and sports because engaging in these types of activities too soon may inhibit proper healing, precipitate bleeding and compromise one's outcome.
It may take several months or more for swelling to completely subside, at which time the results from surgery should be fully apparent. The incisions tend to become somewhat inconspicuous by six months to one year.
How Long Will Facelift Results Last?
The longevity of facelift results will be influenced by several different factors including:
The surgical technique employed – Facelift methods that solely tighten skin do not usually yield results that last as long as techniques designed to lift and tighten both skin and underlying facial tissue.
The patient's skin tissue quality – Younger, healthier skin that has not yet lost a substantial amount of elasticity generally has greater resiliency and often leads to more enduring results.
The patient's unique lifestyle habits after the procedure – Consuming a balanced diet, protecting the skin from harmful UV rays, using hydrating/nourishing skin care products, avoiding smoking and living an overall healthy lifestyle can help extend the longevity of one's results.
Stability of weight – Significant weight fluctuations are detrimental to the elasticity and quality of the skin leading to an acceleration of looseness.
Genetics
Health
Stress
Taking these variables into consideration, facelift surgery results may "last" approximately seven to ten years for the average patient. This doesn't mean, though, that the initial postoperative results are maintained in their entirety for that period of time. Instead, what it means is that effects and improvements as a consequence of the procedure may still be seen up to that point in time. That being said, patients who have received a facelift will generally look younger in seven or ten years than they would if they had never undergone surgery in the first place.
Are Facelift Scars Noticeable?
The final appearance of facelift scars will depend on a number of different elements such as the procedure employed (full facelift or midface lift), the technique used to close the incision, the specific scar care products utilized, health and nutritional status, exposure to harmful UV rays and how closely postoperative recommendations are followed. Less controllable factors that can also greatly impact scarring include genetics and the body's natural healing response.
Typical incisions for a facelift are made in front of the ear and extend up above the hairline as well as behind the ear (also beyond the hairline). Due to their location and Dr. Turkeltaub's meticulous wound closure method, they tend to be rather inconspicuous once fully healed. In fact, most patients report that other people have no idea they received a facelift—only that they look more youthful and refreshed.
How Much Does a Facelift Cost?
According to the American Society of Plastic Surgeons (ASPS), the average cost of facelift surgery is slightly over $7,000*. It is important to note that this price is representative of the surgeon's fee alone and does not take into account expenses for the operating facility, anesthesia, pre- and postoperative medications and various other components that might apply.
For a personalized facelift cost quote, Dr. Turkeltaub will need to meet with you for an in-person consultation at our practice. At this time, he will listen to your unique needs and goal, perform a thorough facial exam and develop a customized facelift strategy. Based on the specifics of the proposed treatment plan, he can then provide you with a detailed breakdown of what you can expect to pay. If interested, a member of our team can also introduce you to a number of plastic surgery financing options that divide the overall expense into affordable monthly installments.
*This number is taken from the most recent statistics provided by the American Society of Plastic Surgeons. It should not be interpreted as a price quote for facelift surgery at Dr. Turkeltaub's practice.
Can I Get a Facelift Without Surgery?
No non-surgical treatment can improve moderate to significant signs of facial aging as extensively or with the same longevity as facelift surgery. That being said, if your aesthetic facial concerns are minor in nature (or if you simply do not wish to undergo a surgical procedure at this time), Dr. Turkeltaub offers several minimally invasive techniques that can address specific aging symptoms and help create a rejuvenated appearance.
One such option involves a customized combination of dermal fillers, such as of Juvederm® products, that can often be combined with treatments like BOTOX®, laser skin resurfacing, KYBELLA®, chemical peels and dermabrasion. This customizable technique has somewhat misleadingly been referred as a "liquid facelift". Depending on the specific combination employed, this approach can help minimize lines and wrinkles, restore lost facial volume and improve the suppleness of the skin.
It is important to note that while these non-surgical procedures can be great options for certain patients, they may not be ideally suited for everyone seeking facial rejuvenation. In addition, there is often a need for periodic touch-up treatments to maintain an optimal outcome over time. During your consultation, Dr. Turkeltaub can determine whether a surgical or non-surgical facelift would be most effective for your aesthetic concerns and desires.
How Do I Choose the Best Facelift Surgeon?
Selecting the best facelift surgeon for you can be made easier by knowing what to look for in a doctor as well as asking the right questions. First and foremost, your prospective physician should be board-certified by the American Board of Plastic Surgery (ABPS). This distinction signifies that he or she has the extensive education and training needed to be a competent plastic surgeon capable of providing optimal safety, professionalism and overall excellence.
Beyond ABPS certification, there are numerous factors related to the doctor's personal skill, surgical approach and even personality that should be taken into consideration. Some questions to ask to help determine if a potential facelift surgeon is right for you include:
How will you customize treatment to meet my needs and goals?
Can I achieve similar results with non-surgical options?
Will my procedure be performed in a hospital (or an accredited surgical center)?
What type of care do you provide after surgery and throughout recovery?
Are there before-and-after photos of previous facelift patients I can look at?
How much will treatment cost and are there any financing options available?
In the end, you want to make sure that you are completely comfortable before selecting the plastic surgeon who will perform your facelift. This includes issues such as their experience, expertise, integrity and communication skills.
Take Years Off Your Appearance with Facelift Surgery
Facelift surgery can address skin laxity, sagging, and other aging signs of the face and neck leading to a more youthful appearance. To schedule a consultation to obtain further information about this procedure, please contact the Arizona Center for Aesthetic Plastic Surgery today.