Despite continuous efforts of eating a balanced diet and exercising on a regular basis, localized accumulations of fat in certain regions of the body can remain resistant to change. One of the most common areas in which this stubborn fat buildup occurs is underneath the chin, an aesthetic concern often referred to as a "double chin." For many, this problem can also be associated with increased weight and hereditary factors.
Traditionally, the only cosmetic treatment for this submental fullness was through surgical means such as liposuction of the neck. Thanks to advancements in aesthetic medicine, however, men and women seeking to reduce this fat below the chin now have a nonsurgical, injectable solution through KYBELLA®. Approved by the U.S. Food and Drug Administration (FDA), this revolutionary technique is designed to eliminate localized pockets of submental fat for individuals 18 years of age and older, all without incisions, surgery and/or an extended recovery period.
For most, it takes just two to three treatments to be able to realize a slimmer, more sculpted under-chin profile that can be long lasting.
Benefits of KYBELLA®
The unique KYBELLA® solution is composed of deoxycholic acid, a naturally occurring molecule that aids in the breakdown of dietary fat in the body. Upon injection, this solution targets and destroys fat cells in the treatment area, which are then filtered from the body via natural metabolic processes.
Key benefits of KYBELLA® can include:
An improved, more defined under-chin and jawline contour
A relatively quick, minimally invasive treatment that can be performed in-office
No need for surgery or incisions
Minimal to no downtime is generally required
Long-lasting results that usually do not require re-treatment
Currently, KYBELLA® is the only non-surgical injectable treatment approved by the FDA for the reduction of excess fat underneath the chin.
The KYBELLA® Procedure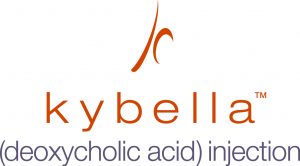 The procedure involves the precise and limited injection of the KYBELLA® solution, using an ultra-fine needle, into targeted areas under the chin/jawline. The majority of patients report experiencing mild to no pain with and following the injections. This can be further minimized by the application of cool packs.
Once administered, the deoxycholic acid-based solution immediately breaks down and destroys targeted fat tissues ultimately resulting in a slimmer, more toned under-chin and jawline contour. On average, the entire procedure may take around 15-30 minutes to perform.
KYBELLA® Recovery and Results
Following treatment with KYBELLA®, some bruising and/or swelling can be expected initially which will resolve with time. Higher doses may result in these manifestations lasting longer and being more significant. Any soreness or discomfort is usually of brief duration and can usually be managed with a mild analgesic and cool packs.
Most individuals are able to resume regular daily routines later that day or within one to two days. However, it is recommended to avoid highly aerobic activities for several days.
Unlike liposuction where results can be seen immediately, and due to the need for the body to absorb and remove the destroyed fat cells, it can take a few weeks to months after the treatments in order to see the final results. Once an ideal under-chin contour is achieved, retreatment is often not necessary for most patients.
Discover What KYBELLA® Can Do for You
If you are interested in KYBELLA® and wish to schedule a consultation with board-certified plastic surgeon Steven Turkeltaub, MD, please contact our office today.