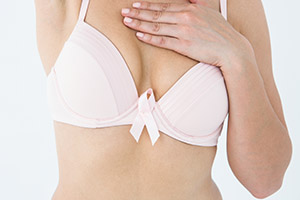 After undergoing a mastectomy due to breast cancer, many women feel deficient and unattractive and are self-conscious about their appearance. They may worry that people will see them differently after surgery, or that they will look and feel less feminine than before. Dr. Steven H. Turkeltaub—a board-certified plastic surgeon in Scottsdale—performs breast reconstruction surgery to help these women regain a sense of wholeness again, both mentally and physically.
Benefits of Breast Reconstruction
Having breast cancer and then undergoing a partial or total removal of one's breast is quite traumatic. Though a reconstructed breast can never truly replace one's natural breast, it does serve to make a woman feel more "whole", attractive, self-confident and feminine again. Dr. Turkeltaub can assist you in your quest for more normalcy through breast reconstruction.
Breast Reconstruction Options
The treatment of breast cancer is not only physically deforming but also stressful and even devastating, mentally and emotionally. The procedure exacts a high toll on a woman's psyche and her femininity. Breast reconstruction, therefore, can serve not only to physically recreate a facsimile of the breast but also to lessen the emotional impact from the deforming treatment of the cancer. It must be understood that no matter what technique is employed, the ultimate result is a representation and not a perfect replica of the original breast. It will never look, feel or respond the same way.
Fantastic and very experience plastic surgeon. Dr. Turkeltaub changed my life. I had a double mastectomy and two failed breast reconstruction surgeries before Dr. Turkeltaub created his miracle with my breast. I am so glad I found him. He gave me hope, confidence back, and made me feel beautiful again. I highly recommend him.

Tina Poplaski-Hockenbroch

October 13, 2017

12345
Prior to any breast reconstruction procedure, there are three major considerations the patient must think about:
Whether to proceed with an immediate reconstruction or pursue reconstruction at a later date
Which reconstructive technique(s) will be used on the affected breast
Whether or not to operate on the unaffected breast in order to obtain greater symmetry
Immediate Versus Delayed Reconstruction
Breast reconstruction can be performed either immediately — at the time of the mastectomy — or at a later date. There are several pros and cons for each approach which should be reviewed prior to making this decision. In your consultation with Dr. Turkeltaub, these options can be discussed in detail in order to allow you to make an informed decision as to what would be best for you.
A major advantage of performing breast reconstruction at the time of the mastectomy is that it can minimize the number of surgical procedures needed, as well as shorten the amount of time it takes to achieve the desired result. However, there are also many valid reasons why women might elect to wait months or even years after their mastectomy before moving forward with breast reconstruction.
Reconstructive Techniques
There are many techniques and variations that can be employed for breast reconstruction. These can be categorized into four general groups as listed below.
Oncoplastic reconstruction. This approach can be used in women who have only had a lumpectomy as opposed to a mastectomy. Because a lumpectomy typically involves removing a fairly limited amount of breast tissue in the treatment of the breast cancer, it is possible that the breast tissue remaining can still allow for reconstruction with a reasonable appearing breast without the need for an implant or flap. This is even more realistic in breasts that initially are moderate to larger in size. With this technique, the remaining breast tissue is surgically re-contoured to obtain a more normal and desirable appearance. This can also involve a breast lift or a breast reduction.
Insertion of breast implants. This involves the insertion of a breast implant to reconstruct the breast. Results with the usage of silicone implants are generally far superior to those where saline implants are employed.
Placement of tissue expanders. Tissue expanders are typically temporary implants that are inflated with saline over a period of time in order to stretch out the skin and promote new skin growth. Once the skin envelope has been expanded the desirable amount, the permanent implant(s) can then be inserted.
Flaps. This involves the transfer of tissue from other areas of the body such as the abdomen (TRAM flap), back, or buttocks in order to re-create a breast. Some of these flaps are designed to keep intact their main intrinsic blood supply. Others require microsurgical techniques in order to facilitate the transfer and maintain tissue viability. These types of procedures entail greater risks, including failure and the frequent need for revisions.
The utilization of acellular dermal matrices (ADM's) such as Alloderm® and Strattice® and fat injections (lipofilling) in the process of breast reconstruction has led to even better outcomes with greater predictability, control and precision. These generally complement the above approaches.
Procedures on the Unaffected Breast
Another consideration is whether or not to operate on the other breast. In a majority of situations, the (anticipated) appearance of the reconstructed breast will be significantly different from the uninvolved side. The larger, broader and droopier the normal side is the greater this disparity will be. In order to obtain closer symmetry, the unaffected side may benefit from a breast augmentation, breast lift or breast reduction.
Some women do not want anything done on this unaffected side and that is a personal decision. For those who elect to proceed, it is important to know that insurance carriers are mandated to cover this procedure as well.
Nipple-Areola Reconstruction
Nipple-areola complexes can also be reconstructed for some finishing touches. A variety of techniques are available which can provide a realistic outcome. A non-surgical option for reconstruction is medical tattooing including the very specialized three dimensional technique which can yield outstanding results.
Due to social media policies, the following images have been censored. Please click on the button below to view the image.
*Individual Results May Vary
Dr. Turkeltaub will discuss all the available options in great detail with each patient in order to help them make the most educated decisions for their reconstruction.
Breast Reconstruction Before-and-After Photos*
Dr. Turkeltaub is a very experienced plastic surgeon who has performed a large number of breast reconstructions in 30 years of practice. The following are examples of his results.
Due to social media policies, the following images have been censored. Please click on the button below to view the image.
Before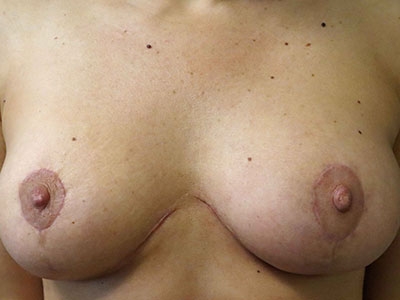 After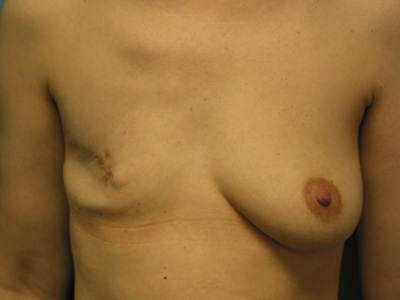 Before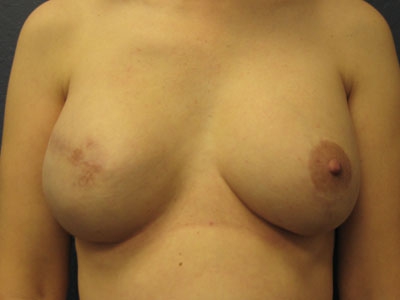 After
*Individual Results May Vary
*Individual Results May Vary
Frequently Asked Questions About Breast Reconstruction
Q: I HAD A MASTECTOMY 7 YEARS AGO BUT WASN'T EMOTIONALLY READY AT THE TIME FOR RECONSTRUCTION. IS IT TOO LATE NOW?
A: No, it is not too late to undergo breast reconstruction. Many women nowadays elect to undergo breast reconstruction at the time of their mastectomy. This is known as an immediate breast reconstruction. Others wait until they are ready, either mentally or physically, which could be at any time after their mastectomy. This is called delayed reconstruction and there is no time limit.
There have been substantial advances in breast reconstruction, even over the last ten years, which have made possible more superior results for women who have had either mastectomies or lumpectomies.
Q: I HAD RECONSTRUCTION ON MY RIGHT BREAST AND LIKE THE RESULTS. UNFORTUNATELY, AT THAT TIME, I DIDN'T WANT ANYTHING DONE ON MY LEFT BREAST TO HELP OBTAIN GREATER SYMMETRY. NOW, I FIND THAT IT IS DIFFICULT TO WEAR CERTAIN BRAS AND CLOTHES BECAUSE OF THE DIFFERENCES. WHAT CAN I DO?
A: To obtain closer symmetry, a procedure can be performed on the other side. Depending on the difference, it could require an enlargement, lift or even a reduction. This compensatory surgery is considered to be reconstructive in nature, not cosmetic, and should be covered by your insurance company.
Q: MY GENERAL SURGEON JUST DIAGNOSED ME WITH BREAST CANCER AND RECOMMENDED A MASTECTOMY. SHE TOLD ME THAT I WOULD BE A GOOD CANDIDATE FOR IMMEDIATE RECONSTRUCTION. BECAUSE I HAVE LARGE BREASTS, SHE THOUGHT THAT I MAY BE ABLE TO HAVE THE RECONSTRUCTION USING BREAST IMPLANTS BUT RECOMMENDED THAT I SEE A PLASTIC SURGEON. IF BREAST IMPLANTS ARE AN OPTION, WHICH IS BETTER – SALINE OR SILICONE ONES?
A: It is important that you consult with a reputable board certified plastic surgeon who is experienced in breast reconstruction. He/she will review your medical history, examine you and then lay out your options and which one he/she thinks is best for you. If breast implants are recommended, then the pros and cons of saline and silicone particularly as relates to reconstruction can be discussed.
My personal opinion from more than 35 years of experience doing breast reconstruction is that silicone implants provide far superior results in essentially all aspects as compared to saline implants. This includes important issues like appearance, feel, durability, naturalness, shape, flexibility and stability.
MORE INFORMATION ABOUT BREAST RECONSTRUCTION FROM DR. TURKELTAUB
To read more about breast reconstruction advancements, techniques and other issues, please visit Dr. Turkeltaub's blog.
LEARN MORE ABOUT BREAST RECONSTRUCTION SURGERY
If you are interested in pursuing breast reconstruction surgery, please contact our practice today to schedule a convenient initial consultation.