At the Arizona Center for Aesthetic Plastic Surgery, our goal is to make your experience as pleasant, informative and stress-free as possible. To best serve you, we provide thorough and informative consultations, flexible scheduling, reasonable prices, various financing options, access to top surgical facilities and more.
Our Plastic Surgery Office – in North Scottsdale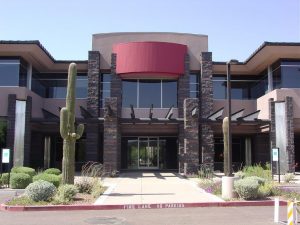 Our office, which is in North Scottsdale right off the Loop 101, is conveniently located so as to be easily reached from most places in the Greater Phoenix Metropolitan area.
The address is 8502 E. Princess Drive, Suite 240. It is on the northeast corner of E. Princess Dr. and N. Perimeter Dr. (at the stoplight), with the entrance being the first right on N. Perimeter Dr.  This one quarter mile west of Princess Drive exit off the Loop 101.
We are also accessible from the Hayden Rd. and Bell Rd. exits off of the Loop 101 as well as via the Greenway-Hayden Loop.
Office Hours and Appointments
Our office is open Monday through Thursday from 8:00 a.m. to 5:00 p.m. and on Friday from 8:00 a.m. to 1:00 p.m. Every effort will be made to accommodate you in scheduling an appointment. We know that your time is very valuable so appointments are scheduled to minimize your waiting time.
Due to our concerns about the safety and lives of our patients and staff, we are taking all necessary precautions in the office including extreme infection-control measures to maintain cleanliness and "sterility" of the overall environment.
It is requested that if you are experiencing a fever, cough, chills, fatigue or any type of respiratory illness – please cancel your appointment. Your visit can be rescheduled at a later date when you are completely recovered.
We also have made available to our patients the option of having a Virtual Consultation which allows you to be evaluated online and obtain helpful information while in the safety of your own home. This approach can also be used for certain types of follow-up visits. Implemented recently, our patients have found this option to be extremely convenient and informative. If you are interested in this, you can either call our office or contact us online.
Thank you for your understanding during these challenging times.
Your Consultation
Your consultation with is extremely important as it will provide you with the foundation to make a well-informed decision regarding surgery. This is exactly why you will be having your consultation with Board-Certified plastic surgeon Steven H. Turkeltaub, MD rather than a nurse, medical assistant, marketer or other staff member – a practice which unfortunately is very common elsewhere.
Dr. Turkeltaub is strongly committed to providing you with detailed information for every surgical procedure that you are considering. He will discuss with you the indications for surgery, risks, complications, expectations, and alternatives. He will not hesitate to advise against undergoing plastic surgery or a particular procedure if that is the most prudent course of action. Additional information and photos are available that can further help your understanding of these procedures.
Confidentiality
We strongly respect your privacy. Your medical records are treated as confidential information and we are HIPAA compliant.
Fees
Our objective is to provide you the best possible care at a reasonable cost. If your procedure may be covered by insurance, your insurance plan will determine your responsibility.
As part of your consultation, you will be provided with a quote for the expected costs of your plastic surgery. Payment can be made by credit card, cash or cashier's check. We also have financing options available through several companies with the most commonly used ones being CareCredit® and Alphaeon®.
Financing
We offer financing through several companies. An application can be completed at the time of your consultation or you can even apply online directly from our page on plastic surgery financing.
Insurance
Cosmetic surgery is not covered by insurance. Breast reduction for enlarged breasts and eyelid surgery to remove excess skin blocking your field of vision may be exceptions to this in certain situations and depending upon your insurance company. We are providers for several insurance plans.
Scheduling Your Plastic Surgery
Once you have decided to have surgery, we will make the arrangements for you. Our goal is to provide you with as pleasant, positive, convenient and stress-free an experience as possible.
Surgical Facilities
Dr. Turkeltaub performs plastic surgery procedures in a few hospital affiliated outpatient centers in the Greater Phoenix area. These facilities are certified, comfortable, and very well attuned to your special needs. Overnight stays with 24-hour nursing care are available at Piper Surgery Center which is part of HonorHealth Scottsdale Shea Medical Center.
Our plastic surgery office in Scottsdale has a surgical facility where a variety of minor cosmetic and reconstructive procedures can be performed. It is well equipped and designed for your comfort, convenience, and confidentiality.
Hospital Affiliations
Dr. Turkeltaub is affiliated with several outpatient surgical centers and hospitals throughout the Scottsdale, Glendale and the Phoenix metropolitan area. These include:
North Valley Surgery Center
Piper Surgery Center
HonorHealth Scottsdale Shea Medical Center
Greenbaum Specialty Surgical Hospital
HonorHealth Scottsdale Osborn Medical Center
Most plastic surgery procedures are performed either at North Valley Surgery Center (situated in North Scottsdale east of the Loop 101 just off  the Raintree St. exit) or at Piper Surgery Center (located on the southeast corner of Shea and 90th St.).
Please contact the Arizona Center for Aesthetic Plastic Surgery at 480-451-3000 or fill out our contact form to reach us via the internet.