The Mommy Makeover Procedure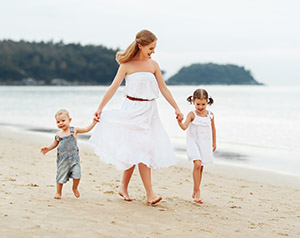 Having children can be one of the greatest gifts of life. Unfortunately, the changes your body goes through can often take their toll on your skin and overall shape making it very difficult to regain your pre-pregnancy figure. That is why Dr. Turkeltaub offers the "Mommy Makeover" for our post-pregnancy patients – to provide you with the means  of restoring and obtaining a more attractive and alluring appearance through cosmetic plastic surgery.
So exactly what is a "Mommy Makeover"? It is a combination of patient specific plastic surgery procedures that target and correct the changes of your body that occur as a result of having children, notably involving your abdomen and breasts. The goal is to help you to return to a more pre-pregnancy figure. Pregnancy affects to varying degrees your breasts, abdomen and even the distribution of body fat and so these are the areas that can be addressed. Other cosmetic procedures can also be performed at the same time to help you obtain the appearance that you have always desired.
Many women lose the youthful firmness, shape and volume of their breasts and acquire stretch marks and drooping with pregnancy. Breast feeding, including the total duration and the number of children, can make this impact significantly worse. Some women will actually experience a permanent increase in breast size though they become very droopy and the shape suffers. Cosmetic procedures that can effectively address these changes include a breast augmentation, a breast lift with or without implants and a breast reduction.
Changes in the appearance of the abdomen following pregnancy can range from minimally perceptible to marked laxity with considerable protuberance, loose hanging skin, diffuse stretch marks and an increased quantity of fat. In order to give you back a more sculpted and firm abdomen, cosmetic procedures such as a tummy tuck, mini tummy tuck, and liposuction can be considered. Liposuction can also be performed on other areas of your body as well such as the hips, thighs, knees and back to allow you to obtain even more rewarding results.
The combination of cosmetic procedures of the breast and abdomen that are most appropriate for you with or without liposuction performed at one surgical setting constitutes the "Mommy Makeover". Of course, you can elect to have other procedures done at the same time such as eyelid surgery. This rejuvenation of one's body back to a more desirable shape can do wonders for your psyche, self-confidence and sense of attractiveness.
Contact Dr. Steven H. Turkeltaub for more information on Mommy Makeover procedures that can help you rejuvenate your body after pregnancy.
Ideal Timing for a Mommy Makeover
Once you have made the decision to pursue a "Mommy Makeover", there are at least two issues with regard to time that should be considered. First, if you are planning to have an additional pregnancy in the relatively near future, you should consider delaying the procedure until after you are finished having children. The reason for this is because any additional pregnancies will often cause many of the same adverse effects on the body (possibly to a lesser degree), particularly your abdomen, which consequently can have a negative effect on the results of a Mommy Makeover if one were done. This is usually truer with regard to your abdomen as opposed to your breasts. Therefore while it may make sense to wait to do your tummy tuck, a breast augmentation may be quite reasonable to pursue in the interim.
The second issue as regards time is that for women who do not plan to have any more children, waiting at least six months after pregnancy and three to six months following the cessation of breast feeding is typically considered ideal before undergoing a "Mommy Makeover". These respective periods of time are usually long enough for elevated hormone levels to normalize, stretched tissue to tighten as much as it will on its own and most pregnancy-associated weight gain to be lost. This translates into a more accurate assessment of your physical issues, more precision in treatment and better and more stable long term results
Recovery from a Mommy Makeover
Recovery from a Mommy Makeover will be influenced by factors such as the specific combination of procedures, the quantity and complexity of these treatments, the particular techniques utilized and skill with which each is conducted, the total operative time and the overall health and natural healing process of the individual. While both abdominal contouring and breast enhancement are generally performed, the amount of downtime and postoperative limitations a patient experiences will usually be dictated by the abdominal procedure employed.
When a tummy tuck is included as part of a Mommy Makeover (which is virtually always the case), the majority of women will require around one to two weeks away from non-strenuous daily routines like office jobs, school or running errands. Rather than lying in bed or sitting stationary during this time, patients are advised to be up and moving around in order to facilitate recuperation and reduce the risk of developing blood clots in the legs and/or lungs.
True aerobic activities such as riding a stationary bike or using a treadmill should be avoided for approximately four weeks, though other non-physically demanding activities can generally be resumed as tolerated. After about eight weeks, all postoperative restrictions are typically lifted, which includes abdominal exercises, heavy lifting and other activities that may cause strain in the treatment area.
In the event liposuction is the only abdominal procedure performed, recovery will often be much faster and easier. Most women feel comfortable enough to return to work, school and other non-strenuous activities within about four to seven days and all restrictions (with a few exceptions) are lifted approximately three weeks after the procedure.
Mommy Makeover Before-and-After Photos*
Dr. Turkeltaub's Mommy Makeover patients enjoy amazing and dramatic benefits from this powerful procedure. View the results achieved at our surgical centers below.
Before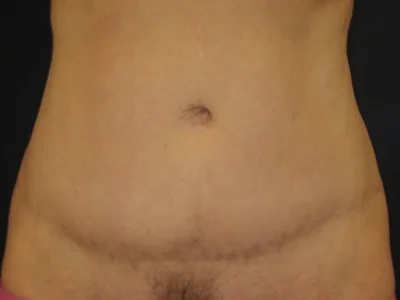 After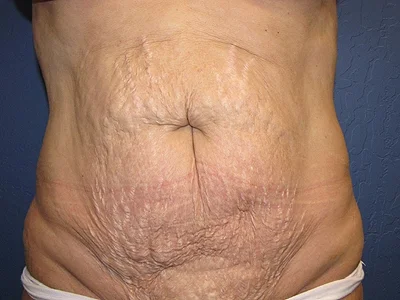 Before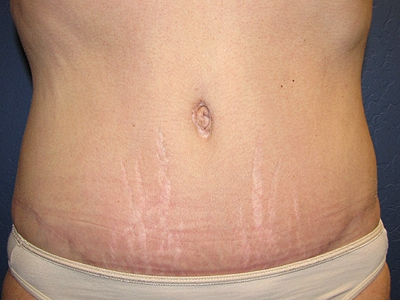 After


*Individual Results May Vary
"I wanted to thank you for your time, concern and help for such a personal decision. You made me feel as comfortable as possible and even kept a sense of humor with my children. This surgery has been contemplated for years with one of the biggest concerns being the doctor. But following my last medically necessary surgical procedure with you, my husband and I finally knew who would do this elective procedure.
As a patient who has seen many offices from M.D.'s to Pediatricians to specialists, your office is by far the best from the receptionist to the doctor.
Again, thank you."
*Individual Results May Vary


*Individual Results May Vary
Contact Us
Please contact The Arizona Center for Aesthetic Plastic Surgery today to learn more or to schedule an initial consultation with Dr. Turkeltaub.