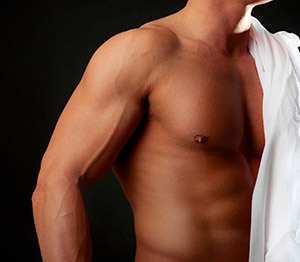 Though the overdevelopment of breast tissue in men is relatively common, the presence of enlarged male breasts can lead to notable mental distress, feelings of self-consciousness and insecurity. This condition, called gynecomastia, is often the result of hormonal changes from puberty. However, it tends to resolve for the majority of individuals once puberty is complete and hormone levels have stabilized. Some additional causes of gynecomastia are:
Obesity
Anabolic steroid use
Side effects of a variety of medications
Use of marijuana and/or other illicit drugs
An imbalance of hormone levels such as caused by tumors
Specific liver diseases
Hereditary disorders
The natural process of aging
No matter what the etiology is of the gynecomastia, men with enlarged breasts often feel embarrassed, ashamed, insecure and generally not very macho about their more feminine appearing breasts. The impact is particularly greater when occurring at a younger age versus later on in life. Simple acts such as removing one's T-shirt at a beach or pool can be extremely terrifying. Men will wear very loose fitting clothes or multiple layers even in hot weather in order to camouflage their "deformity."
The severity of the condition varies from being perceived only to the male himself to being extremely large and even droopy—attaining sizes of double D's or more.
Examples of Gynecomastia
Regardless of the cause of Gynecomastia, males who have overly large breasts often experience embarrassment, shame, insecurity and a general feeling of emasculation about appearance of their breasts.
Due to social media policies, the following images have been censored. Please click on the button below to view the image.
A 16 year old male experiencing mild Gynecomastia in the areola area.*
A 16 year old male experiencing moderate Gynecomastia.*
A 14 year old male experiencing severe Gynecomastia.*
*Individual Results May Vary
Gynecomastia vs. Pseudogynecomastia
Although "gynecomastia" is the general term used to describe overly large male breasts, this aesthetic condition might more specifically be characterized as "pseudogynecomastia" if an accumulation of fat is the sole underlying cause.
In true gynecomastia, excess glandular tissue is primarily responsible for the enlarged male breasts. This buildup of tissue generally begins to develop due to elevated hormonal levels occurring during puberty and it usually resolves on its own for the majority of males. When the condition does not go away, however, direct excision of the extra glandular tissue is typically the most effective solution. (Other causes are listed above.)
In pseudogynecomastia, the growth and accumulation of an abnormal amount of fat in the breasts, which usually is the result of an excess of weight, is the main cause for male breast enlargement. A healthy diet, weight loss, exercise and certain weight lifting techniques can be helpful in some individuals to improve the appearance of this condition. However, most ultimately will need fat removal through liposuction in order to effectively treat pseudogynecomastia.
Both true gynecomastia and pseudogynecomastia are extremely common and distinguishing between the two is often not possible until the time of surgery. As a result, seeking a board-certified plastic surgeon who is highly skilled in both direct tissue excision and liposuction is critical to maximizing your probability for safe, appropriate treatment and desirable results.
Surgical Treatment for Gynecomastia
The breasts in males with gynecomastia possess extra fat and/or glandular tissue. With more severe enlargements, excess skin may also be present. Men who are obese may see some improvement with weight loss but this usually does not fully eradicate their problem. The definitive treatment is surgery, undergoing a breast reduction to remove the excess tissue and contour the breasts. Ultrasonic assisted liposuction is an extremely effective treatment for those patients where fat constitutes a component of the gynecomastia—anywhere from some to the entire enlargement. Direct excision of breast tissue is warranted where glandular tissue comprises the entire enlargement or a noticeable amount.
The incision for male breast reduction surgery is placed around the lower half of the nipple but also can be placed in the fold below the breast or in the armpit. Its length is usually around three eighths of an inch. A more elaborate approach involving additional incisions is warranted if the breasts are extremely enlarged or associated with drooping and considerable skin excess.
Surgery is most often performed as an outpatient procedure using general anesthesia. Many men also elect to have their procedure conducted in combination with other aesthetic treatments, most notably liposuction in the love handles and/or abdominal region.
Recovery from Gynecomastia Treatment
To help reduce any potential swelling, bruising or postoperative discomfort, a compressive dressing is placed around the chest for a few days. Following this, a form
fitting garment is worn for approximately two weeks. Most men can resume school and non-strenuous jobs in as little as a few days. Heavy lifting, working out and sports should be avoided for two and a half to three weeks.
Most men don't experience much discomfort from this surgery and may only take some oral pain medication for a few days at most. (See blog: Discomfort Following Male Breast Reduction Surgery Is Usually Fairly Mild … Even For Men!)
The results of this treatment can be quite dramatic both physically and psychologically. To learn more about gynecomastia treatment, please visit our male breast reduction FAQs (frequently asked questions) page or schedule an appointment at our practice.
Gynecomastia Treatment Before-and-After Photos*
The benefits of surgery to correct gynecomastia can be quite substantial including an increased self-confidence that accompanies a more masculine configured chest.
Due to social media policies, the following images have been censored. Please click on the button below to view the image.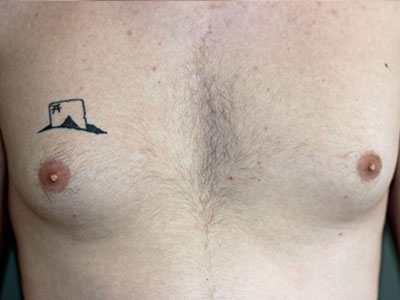 Before
After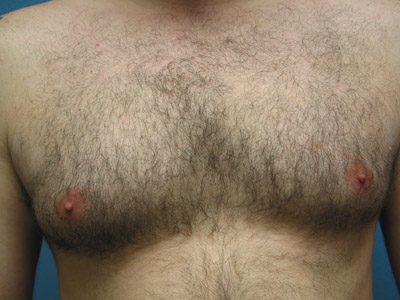 Before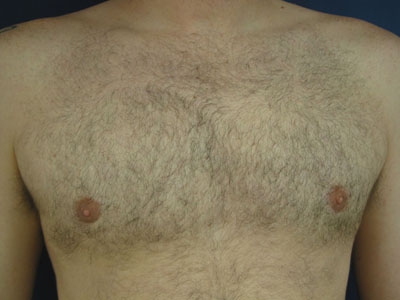 After
*Individual Results May Vary
Contact Our Practice
If you are interested in learning more about male breast reduction for the treatment of gynecomastia, or if you wish to schedule a consultation with Dr. Steven H. Turkeltaub, please contact The Arizona Center for Aesthetic Plastic Surgery today.