Surgery for Gynecomastia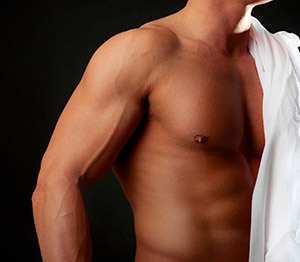 Though the overdevelopment of breast tissue in men is relatively common, the presence of enlarged male breasts can lead to notable mental distress, feelings of self-consciousness and insecurity. This condition, called gynecomastia, is often the result of hormonal changes from puberty. However, it tends to resolve for the majority of individuals once puberty is complete and hormone levels have stabilized.
Some additional causes of gynecomastia are:
Obesity
Anabolic steroid use
Side effects of a variety of medications
Use of marijuana and/or other illicit drugs
An imbalance of hormone levels such as caused by tumors
Specific liver diseases
Hereditary disorders
The natural process of aging
No matter what the etiology is of the gynecomastia, men with enlarged breasts often feel embarrassed, ashamed, insecure and generally not very macho about their more feminine appearing breasts. The impact is particularly greater when occurring at younger ages versus later on in life. Simple acts such as removing one's T-shirt at a beach or pool can be extremely terrifying. Men will wear very loose fitting clothes or multiple layers even in hot weather in order to camouflage their "deformity."
The severity of the condition varies from being perceived only by the affected individual to being extremely large and even droopy—attaining cup sizes of "DD" or bigger.
Fortunately, gynecomastia can be effectively treated with male breast reduction surgery (gynecomastia surgery), that can involve excision of glandular tissue, liposuction or a combination of both techniques. If there is excess skin with laxity, this would have to be surgically addressed as well.
At our practice, Scottsdale plastic surgeon Steven Turkeltaub, MD has helped countless men, including adolescents, achieve a more toned and masculine looking chest through male breast reduction surgery. He would be happy to do the same for you.
To learn more about gynecomastia and its treatment, we invite you to explore the contents provided throughout this page. If you have any questions, or if you are ready to schedule your consultation with Dr. Turkeltaub, please contact us today.
What Are the Symptoms of Gynecomastia?
The enlargement of glandular breast tissue, not associated with any symptoms, is often the only finding associated with gynecomastia. This most often presents in both breasts though it can sometimes affect only one side. It can also occur in each breast to varying degrees, resulting in one side appearing larger than the other.
For many males, extra fat is commonly present in addition to the overdeveloped glandular tissue, further adding to the size of the breasts. There are some whose gynecomastia is solely due to fat. In severe cases, a relative excess of lax skin may also develop and cause the breasts to sag.
It is uncommon for the condition to be associated with a significant amount of pain, but mild breast tenderness may be experienced in some cases of gynecomastia.
Examples of Gynecomastia
Regardless of the cause of gynecomastia, males who have overly large breasts often experience embarrassment, shame and insecurity about their appearance. The pictures below are examples of mild, moderate and severe cases of gynecomastia.
Due to social media policies, the following images have been censored. Please click on the button below to view the images.
A 16 year old male experiencing mild Gynecomastia in the areola area.*
A 16 year old male experiencing moderate Gynecomastia.*
A 14 year old male experiencing severe Gynecomastia.*
*Individual Results May Vary
Gynecomastia vs. Pseudogynecomastia
Although "gynecomastia" is the general term used to describe overly large male breasts, this aesthetic condition might more specifically be characterized as "pseudogynecomastia" if an accumulation of fat is the sole underlying cause.
In true gynecomastia, excess glandular tissue is primarily responsible for the enlarged male breasts. This enlargement of breast tissue generally begins to develop due to elevated hormonal levels occurring during puberty and it usually resolves on its own for the majority of males. When the condition does not disappear, however, direct excision of the extra glandular tissue is typically the most effective solution. (Other causes are listed above.)
In pseudogynecomastia, the growth and accumulation of an abnormal amount of fat in the breasts, which usually is the result of an excess of weight, is the main cause for male breast enlargement. A healthy diet, weight loss, exercise and certain weight lifting techniques can be helpful in some individuals to improve the appearance of this condition. However, most ultimately will need fat removal through liposuction in order to effectively treat this problem.
Both true gynecomastia and pseudogynecomastia are extremely common and distinguishing between the two is often not possible until the time of surgery. As a result, seeking a board-certified plastic surgeon who is highly skilled in both direct tissue excision and liposuction is critical to maximizing your probability for safe, appropriate treatment and desirable results.
How Is the Surgical Treatment for Gynecomastia Performed?
The breasts in males with gynecomastia possess extra fat and/or glandular tissue. With more severe enlargements, excess skin may also be present. Men who are obese may see some improvement with weight loss but this usually does not fully eradicate their problem. The definitive treatment is surgery, undergoing a breast reduction to remove the excess tissue and contouring the breasts. Ultrasonic assisted liposuction is an extremely effective treatment for those patients where fat constitutes a component of the gynecomastia—anywhere from some to the entire enlargement. Direct excision of breast tissue is warranted where glandular tissue comprises the entire enlargement or a noticeable amount.
The incision for male breast reduction surgery is typically placed around the lower half of the areola (colored portion around the nipple) but also can be placed in the fold below the breast. Its length is usually around three eighths of an inch. A more elaborate approach involving additional incisions is warranted if the breasts are extremely enlarged or associated with drooping and considerable skin excess.
Surgery is most often performed as an outpatient procedure using general anesthesia. Many men also elect to have their procedure conducted in combination with other aesthetic treatments, most notably liposuction in the love handles and/or abdominal region.
What Is Recovery from Gynecomastia Surgery Like?
To help reduce any potential swelling, bruising or postoperative discomfort, a compressive dressing is placed around the chest for a few days. Following this, a form fitting garment is worn for a few weeks. Any soreness or pain is usually well controlled via oral medication, with most patients feeling well enough to resume school and non-strenuous jobs and activities in as little as a few days. Heavy lifting, working out and sports should be avoided for around three weeks.
The results of this treatment can be quite dramatic, both physically and psychologically.
Will I Have Scars After Male Breast Reduction?
Depending on the underlying cause of the gynecomastia, the incisions for a male breast reduction can be placed around the lower part of the areola, in the crease at the bottom of the breast or a combination of the two. Their ultimate appearance would depend on genetics, skin type, early activity type and level, usage of anti-scar products and more. Fortunately, these usually heal extremely well with the resulting scarring being fairly or completely inconspicuous and virtually never an issue.
What is very common is for men to be thrilled with their new chest contour.
What Does Gynecomastia Surgery Cost?
Like most plastic surgical procedures, pricing for gynecomastia surgery will vary based on factors such as the fees for the surgeon, anesthesia charges and treatment facility expenses—whether it is an office, outpatient center or hospital. Additional elements that can affect the total cost of the procedure include:
The training, surgical skill, experience and personal preferences of the surgeon
The geographical location of the practice and/or treatment center
The specific approach to surgery employed (tissue excision, liposuction or a combination)
The severity of the gynecomastia as well as the time required to completely treat it
The number of surgical facilities that are available in the area—and the specific one chosen
Any medication that may be needed postoperatively—and whether or not it is partially or fully covered by insurance
The state of the economy at the time treatment is pursued and completed
To obtain a customized price quote for gynecomastia surgery, we encourage you to schedule a consultation with Dr. Turkeltaub. Following an extensive review of your unique needs and goals, he can provide you with an estimate of the total cost of treatment, including an itemized breakdown of associated fees.
Gynecomastia Treatment Before-and-After Photos
The benefits of surgery to correct gynecomastia can be quite substantial including an increased self-confidence that accompanies a more masculine configured chest.
Due to social media policies, the following images have been censored. Please click on the button below to view the images.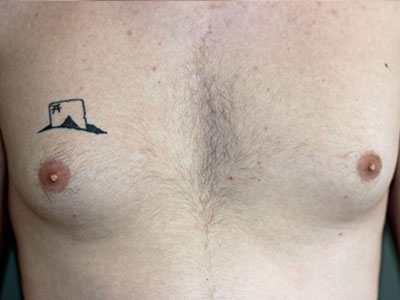 Before
After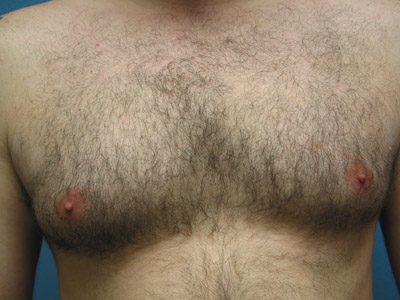 Before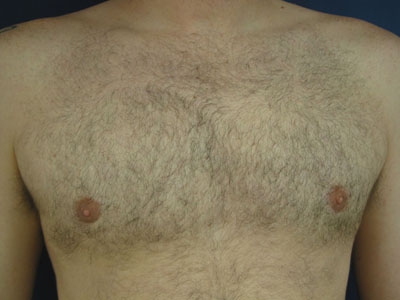 After
Additional Male Breast Reduction FAQs
Q: Is it rare for a man to have enlarged breasts?
A: No. In fact, it is a very common occurrence. Most of the time it is a result of persistence of the enlargement that commonly develops during puberty. However, there are many other causes of this some of which include obesity, anabolic steroids, certain medications and marijuana.
Q: Is gynecomastia surgery covered by insurance?
A: Due to the fact that gynecomastia is virtually always considered to be a cosmetic issue, surgical treatment of the condition is rarely ever covered by insurance. That being said, plastic surgery financing is often available for those seeking help with covering the cost of care. At our practice, Dr. Turkeltaub partners with both CareCredit® and ALPHAEON® CREDIT—two trusted healthcare lending institutions that can make male breast reduction affordable for almost any budget through a variety of low and no interest monthly payment plan options.
Q: What happens to the extra skin?
A: If you have good skin tone (elasticity), the skin will usually contract and contour to the underlying structures without the need for anything further to be done. In situations of massive breast enlargement or considerably droopy skin, excision of the excess skin is usually warranted.
Q: Is gynecomastia surgery painful?
A: Most men do not experience much discomfort from this surgery and may only take some oral pain medication for a few days at most. (See blog: Discomfort Following Male Breast Reduction Surgery Is Usually Fairly Mild … Even For Men!)
Q: How soon after surgery can I return to work?
A: Depending upon your job and the need for pain medication, you may be able to return to work within a few days. However, if your job is physically strenuous, you may need to take two to three weeks or more off unless there are temporary, more sedentary options available.
Contact Our Practice
If you are interested in learning more about male breast reduction for the treatment of gynecomastia, or if you wish to schedule a consultation with Dr. Turkeltaub, please contact the Arizona Center for Aesthetic Plastic Surgery today.