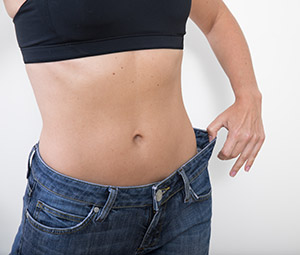 Obesity has been at epidemic proportions in this country for quite some time now and there is no end in sight. Many individuals have either realized or have been informed by their physicians of the multiple untoward ramifications of this condition including a litany of medical problems and elevated risks such as diabetes, high blood pressure, heart disease, cancers and arthritis – and have decided to take definitive actions.
Fortunately, a lot of these individuals have been at least partially successful in achieving their goal to lose a large amount of weight, which often is in the range of 50 to 100 pounds or more. Some can realize this massive weight loss by adhering to a regimen of strict dieting and vigorous, consistent exercising. Others pursue bariatric (weight loss) surgery such as the lap band or gastric bypass.
Regardless of the approach, one's health, quality of life and future prospects are improved with a substantial or massive weight loss. You feel better, have more energy, are more active and look much better, at the very least, in clothes.
Yes, in clothes!
Looking in the mirror while wearing your birthday suit, you see a trimmer, more attractive you. But…depending on the extent of weight loss, period of time of the loss, genetics and other factors, your skin may be loose, redundant and over-abundant. Additionally, it may have stretch marks, very poor elasticity and even hang or cascade down.
Now what do you do?
Fortunately, there is a wide array of plastic surgery procedures that can be performed in order to improve and rejuvenate your appearance while correcting the deformities and issues associated your previous overweight condition and the subsequent (massive) weight loss. These can address essentially any area of the body that suffered the consequences of weight problems such as your trunk, breasts, arms, legs and thighs, face, neck and eyelids.
For laxity of the trunk and lower body, consideration can be given to extended tummy tucks, thigh and buttock lifts and even circumferential treatment with a "belt lipectomy". Treatment of the breasts in women usually involves breast lifts along with a possible breast augmentation. The approach for men would be a breast reduction. The skin of the upper arms can be tightened and contoured with arm lifts. Facial laxity can be addressed with facelifts, forehead lifts and eyelid surgery. Liposuction of a variety of areas may also be beneficial.
Post Weight Loss Body Contouring
For patients who have experienced massive weight loss and who desire to correct multiple areas, an integrated treatment plan is custom-designed to their needs. Dr. Steven Turkeltaub will precisely evaluate your situation and discuss explicitly and thoroughly with you the recommended plastic surgery procedures and strategies. The following are some of the most common post weight loss treatments available at the Arizona Center for Aesthetic Plastic Surgery:
Belt lipectomy – Also known less specifically as a lower body lift, a belt lipectomy involves the circumferential removal of excess skin and fat of the abdomen, hips, outer thighs and buttocks along with lifting and contouring in order to provide a more toned, smoother, rejuvenated appearance.
Tummy tuck – Medically referred to as an abdominoplasty, tummy tuck surgery involves the tightening of abdominal muscles (if indicated) as well as the removal of excess skin and fat for a slimmer, more sculpted abdomen.
Liposuction – Liposuction is a popular procedure that can be utilized to target and remove diet and exercise-resistant pockets of fat in virtually any region of the body, providing you with a thinner, more toned figure.
Breast lift – Also called mastopexy, a breast lift is designed to re-elevate and contour drooping breasts for a rejuvenated appearance. During the procedure, Dr. Turkeltaub can remove excess skin, reshape the breast tissue and reduce the size of the nipple-areolar complexes based on your specific needs. If desired, breast lift surgery can also be combined with a breast augmentation for added volume and an improved overall shape.
Male Breast Reduction – Designed to treat enlarged male breasts (gynecomastia), male breast reduction involves the removal of excess tissue, fat and/or skin, helping to create a more masculine-appearing chest for men.
Arm lift – Medically known as brachioplasty, arm lift surgery entails the excision of loose, redundant skin and excess fat in the upper arms, helping to achieve a more aesthetically pleasing contour.
Thigh lift – Thigh lift surgery is conducted in order to remove loose, excess skin on the thighs for a firmer, more toned appearance. Dr. Turkeltaub can perform an inner thigh lift, an outer thigh lift or both in combination.
Facelift – Frequently combined with a neck lift, facelift surgery can address laxity in the midface, lower face and/or neck region via the tightening of underlying muscles and the removal of loose, extra skin. For a more comprehensive enhancement, a forehead lift, blepharoplasty and/or other complementary procedures can also be performed in conjunction with a face/neck lift.
Depending on the areas to be improved, staging of the procedures may be indicated. For example, a belt lipectomy and tummy tuck can be performed during the first session followed several months later with a breast lift with enlargement and an arm lift.
Before-and-After Photos*
Before-and-after pictures of actual patients reveal the profound effects that can result from body contouring procedures.
Before
After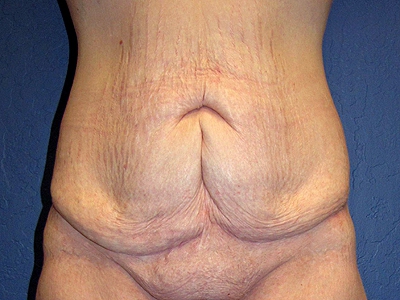 Before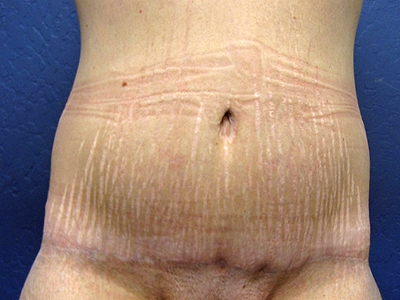 After

*Individual Results May Vary


*Individual Results May Vary
Interested in Body Contouring After Massive Weight Loss?
Contact our plastic surgery practice online or by phone to schedule an initial body contouring consultation with Dr. Turkeltaub. We are dedicated to helping patients look and feel naturally beautiful.