Having a body that strongly conflicts with one's experienced gender identity is incredibly challenging on numerous levels, functionally and psychologically. For many transgender females (transwomen), the issues resulting from these challenges lead to a general dysphoria that is often accompanied by such issues as depression, anxiety, disregard for one's health and substance abuse. Thankfully, transgender plastic surgery and medicine has progressed tremendously over the years, enabling the male to female (MTF) transition to be completed more easily, naturally, predictably and with results that are far superior to what was previously obtained.
As a member of the "World Professional Association for Transgender Health" (WPATH), Scottsdale plastic surgeon Steven H. Turkeltaub, MD performs male to female (MTF) breast surgery at his practice to help patients achieve a more feminine appearing chest as part of their gender transformation. From your initial consultation through your final post-operative visit, Dr. Turkeltaub will deliver unparalleled attention, professionalism, understanding and support in a completely judgement-free environment. His aim is to fully comprehend your specific needs and personal perspectives, customize a treatment plan that aligns with your unique goals and lifestyle and ultimately help you finally realize the gender transition that is essential and life changing.
What Is MTF Transgender Top Surgery?
MTF (Male to Female) transgender top surgery is the gender affirming procedure that transforms a genetically male chest to a more feminine appearing one. It is, in essence, a breast augmentation for those with gender dysphoria. There are, however, some substantially different and important issues that must be addressed in order to obtain the best, most natural appearing results.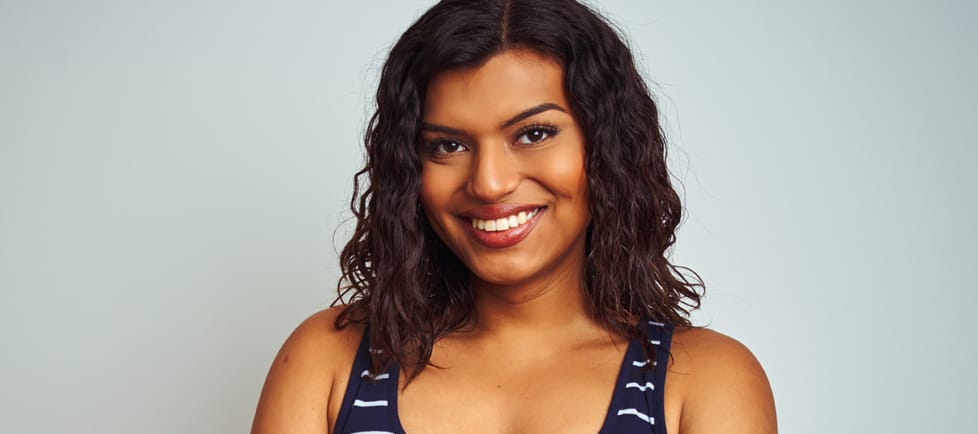 How Is the MTF Breast Procedure Performed?
Male to female breast surgery is performed in a manner virtually identical to a standard breast augmentation though with some caveats. During the procedure, breast implants are carefully inserted through an incision and placed either above or below the pectoralis major muscle to achieve a feminine-appearing chest. Dr. Turkeltaub employs a very gentle and meticulous surgical technique to help limit any post-operative discomfort and allow you to achieve the results that you desire.
The potential risks associated with MTF breast surgery are the same ones as those experienced in breast augmentation. These will be thoroughly discussed with you during your consultation.
Breast Implant Options
At the Arizona Center for Aesthetic Plastic Surgery, Dr. Turkeltaub offers a wide array of breast implants based on size, profile, and implant fill material that includes various levels of silicone gel cohesiveness in order to help meet your unique needs and desires. Based on a multitude of factors, he will make recommendations to you that will help you to obtain the best possible outcome.
For more specific information about implants, please visit Dr. Turkeltaub's page on breast implants.
MTF Breast Surgery Incision Choices
Individuals considering MTF breast surgery have three incision options through which implants can be placed. These include:
Inframammary
This incision is made at the crease at the very bottom of the breast, known as the inframammary fold. The location of the inframammary incision allows for both short- and long-term flexibility, optimal exposure and visualization during surgery and superior predictability of results. For these reasons and others, it is the most common incision used for the placement of implants.
Periareolar
The periareolar incision is made along the lower-half margin of the areola. When performed skillfully, the resulting scar can be relatively inconspicuous. This approach, however, is rarely a viable option especially when silicone breast implants are selected. The reason for this is that it is difficult or impossible to realistically insert fully filled silicone implants through incisions made along the lower half of the generally smaller-sized nipples one is starting out with.
Transaxillary
Located in the armpit, the transaxillary incision is the second most popular one. Its selling point is that there are no incisions placed directly on the breasts. There are, however, a number of factors that must be considered when contemplating this approach.
Following a thorough review of the advantages and disadvantages of each option, Dr. Turkeltaub can help you select the best incision location for your unique needs and desires.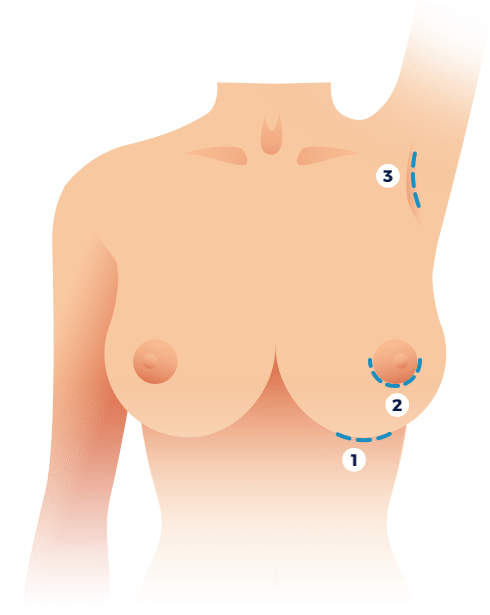 Inframammary incision
Transaxillary incisions
Periareolar incision
Implant Placement
There are two implant placement options for MTF breast: in front of the pectoralis major muscle (submammary) or behind it (submuscular or subpectoral). For the reasons highlighted below, Dr. Turkeltaub recommends placing breast implants submuscularly most of the time.
The risk of capsular contracture (hardening of scar tissue around the implant) is reduced
There is more tissue to cover and conceal any potential implant rippling
The superior interface between the chest wall and implant creates a more natural look
The muscle provides added support for the weight of the implant
What Is MTF Breast Surgery Recovery Like?
A firm, form-fitting compression dressing is placed immediately after surgery and remains on for around two to three days and is then replaced by a sports-type bra. This is to be worn day and night for approximately two weeks after which point it is strongly recommended that you wear a supportive bra on a regular basis which can help to limit sagging over time.
There may be some mild to moderate discomfort within the first few days of recovery but most patients are able to return to non-strenuous jobs and close to normal daily routines after about four to seven days. It is strongly recommended that any sports, vigorous exercise and other similar activities be avoided for at least three weeks.
Swelling and firmness of the breasts will be experienced initially causing the breasts to look larger and feel harder than they ultimately will be. These and other expected occurrences should resolve over the course of up to six months or more to eventually reveal a size and contour closer to what was envisioned.
The ultimate results can be tremendously gratifying and positive—physically, mentally and emotionally.
Is There Insurance Coverage for MTF Transgender Top Surgery?
Unfortunately, MTF top surgery is not covered by most insurance companies. Consequently, and like a breast augmentation procedure, you would need to pay for this on your own.We will provide you with explicit pricing information so that you will know exactly what the expected costs will be. Financing options are available, if needed, to help make your breast surgery a reality.
What Does MTF Transgender Breast Surgery Cost?
Based on patient submissions to RealSelf.com, the cost of MTF top surgery in the Scottsdale region typically ranges from $2,975 to $10,500, with an average price of $6,425. While these numbers can give you a good idea of what your MTF breast surgery might cost, it is important to understand that there are several factors that can influence the exact price of your treatment. Some of the most notable elements that dictate the total expense of MTF breast procedures include the surgical technique utilized, the complexity of the operation, the particular implants selected, the plastic surgeon's level of skill and experience, the geographic location of the practice, and charges for the anesthesiologist and the operating facility. Pre- and post-operative medications and any post-surgical garments are usually not included in the quoted fees but ultimately are an additional cost.
To obtain a personalized quote for MTF top surgery, you will need to schedule a consultation with Dr. Turkeltaub. During this appointment, he can review your specific needs and goals, develop a custom treatment plan and provide a detailed breakdown of all expenses associated with your procedure.
If you are interested in payment plan options, we can assist you in the application process for plastic surgery financing. We do partner with CareCredit®, ALPHAEON® CREDIT and several other trusted healthcare lenders in order to help make MTF transgender breast surgery an affordable reality for virtually all budgets.
Ancillary Procedures Offered to Our Transfeminine Patients
For the vast majority of transwomen with at least some degree of gender dysphoria, top surgery in the form of a breast augmentation is by far the number one gender affirming procedure that they pursue. It is also the only major gender related surgery that most want to have.
This doesn't mean, however, that they still don't want to look and feel even more feminine. Understandably and for a variety of reasons, complex genital reconstruction and facial feminization are not appealing for many. However, there are far lower-risk and less "invasive" mainstream procedures that can be pursued and that are associated with minimal to no downtime. Included among these are liposuction, BOTOX® and facial fillers like Juvederm®.
Estrogen can positively impact the redistribution of fat to a more feminine pattern but often this effect is quite limited. Liposuction can assist in improving contours such as in the flank region. If there is a substantial amount of fat to be removed, it can then be injected into under-projecting areas such as the hips, thighs and even buttocks to provide more feminine curves.
Dermal fillers like Juvederm® can be strategically injected into multiple areas of the face to help provide a softer, more feminine appearance. Juvederm® Ultra and Volbella® can be used to create larger, more alluring and dynamic lips.
BOTOX® treatments can be used to soften muscle contractions, creases and wrinkles such as in the forehead, crow's feet area and the frown lines. It can also be employed to reshape the brows in order to create a more attractive, feminine appearance.
Additional MTF Top Surgery FAQs
Do I have a choice of silicone or saline breast implants for my breast enlargement?
Theoretically, yes you do have the option of going either with saline or silicone breast implants for your MTF breast enlargement. However, because the results are far superior when silicone ones are used as compared to saline, highly cohesive smooth surfaced silicone implants are the only ones that Dr. Turkeltaub will use for your surgery.
What incision do you use to insert the breast implants?
For several reasons, the inframammary incision provides advantages over other approaches. Consequently, this is the one that Dr. Turkeltaub recommends and uses.
Do you recommend placing the breast implants above the muscle or behind it?
For MTF breast augmentation, patients are offered the option of having their breast implants placed either in front of or behind the chest wall muscle. Based on several individual factors, Dr. Turkeltaub will make a recommendation as to which approach he believes would give someone the best result overall. Generally, the submuscular location is selected more often.
My nipples are set far apart. Will this affect my ability to have good cleavage?
In general, having your nipples situated more laterally on your breast will make it far more difficult to obtain the cleavage that you may desire. This will also be influenced by your other chest wall anatomic parameters. Fortunately, there are a multitude of size options and implant profiles (width to height ratio) that may help get you closer to the desired cleavage.
MTF Breast Surgery Patient Testimonials*
Want More Information on MTF Top Surgery?
To learn more about MTF top surgery or if you would like to schedule a consultation, please contact our practice today. Dr. Turkeltaub would be very happy to help you achieve your life-changing, essential transformation that you need and deserve.
A Message Regarding Coronavirus/COVID-19
As always, our highest priority is to ensure YOUR safety and well-being.
With coronavirus/COVID-19 still a health issue, we want you to know that we are continuing to take extreme infection control measures in our office to maximize cleanliness and keep the environment as sanitary and safe as possible. This also means that only patients will be permitted to come into our office and everyone will have their temperature checked.
In an abundance of caution, we are requesting that if you are experiencing a fever, cough, chills, fatigue or any type of respiratory illness, please delay any upcoming appointments at our practice. We can talk with you by phone or email to establish a new date and time for the appointment. You may also want to contact your healthcare provider for further evaluation.
We do offer Virtual Consultations and Telemedicine through doxy.me. This is best used for specific situations including postoperative questions and as a substitute for some postoperative office visits relating to certain procedures. However, if you are planning to proceed with surgery, an in-office evaluation will be required.
We are all in this together and really appreciate your cooperation. If you have any questions, please feel free to contact us by phone or email.