Breast Implants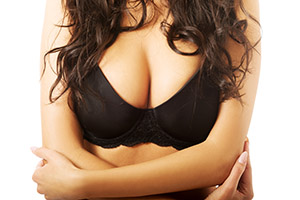 Women interested in breast enhancement surgery have a wide variety of implant shapes, sizes, styles and surface textures to choose from. When selecting the right breast implants, it is important to be mindful that the decision should not be based solely on which option can increase the volume and/or improve the symmetry of the breasts, but also on which implants can achieve the overall desired outcome for one's unique body structure and physique. With years of experience and an exceptional eye for aesthetics, board-certified plastic surgeon Steven H. Turkeltaub, MD possesses the knowledge and skills necessary to consider all variables and help you choose the most appropriate breast implants for your individual needs and goals.
Silicone or Saline Breast Implants
Saline and Traditional Silicone Breast Implants
Traditional round silicone breast implants are FDA approved for breast augmentation patients who are at least 22 years old and for breast reconstruction patients of any age. Though they can be used in younger women, such usage is considered to be "off label" which means that it isn't officially approved by the FDA. This "restriction" is more of political one rather than one based on any untoward clinical findings in that age group. Saline breast implants are approved by the FDA for patients who are 18 years of age and older.
While both implant types have helped millions of women achieve excellent results over the years, silicone implants are widely considered the "gold standard" in terms of aesthetic outcome – they tend to look and feel far more natural and on average last much longer than the saline ones.
In Dr. Turkeltaub's practice, essentially all his patients choose silicone breast implants. It is exceedingly rare that anyone selects the saline implants anymore. Furthermore, every one of his patients who have had both types of implants at one time or another say that they preferred the superior look and feel of silicone as opposed to saline.
For more information about silicone implants please visit Dr. Turkeltaub's Blog.
Natrelle® 410 Silicone Breast Implants ("Gummy Bear") – No Longer Available for Implantation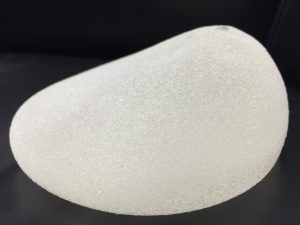 With much hype, the FDA approved the Natrelle® 410 breast implants, also called "gummy bear" implants, produced by Allergan, plc in 2013. These are form-stable and anatomically designed in a teardrop shape to help simulate more "natural" curves. Being constructed with a highly-cohesive silicone gel, even more so than the traditional round silicone implants, they maintain their wedge shape under virtually all conditions. They have been shown to have reduced rates of rippling, wrinkling, and rupture but do feel more firm and less natural than round implants, can rotate over time creating appearance issues and are more expensive.
Their usage, however, has been far less than expected nationally for a variety of reasons. This is somewhat fortunate as extensive studies have revealed that the texturing used on the envelope of these implants (as well as all other textured implants and tissue expanders manufactured by Allergan) is associated with a risk, though extremely rare, of developing what has been called "breast implant-associated anaplastic large cell lymphoma (BIA-ALCL)". Consequently, in July 2019, these gummy bear implants and all textured surfaced implants and tissue expanders produced by Allergan have been voluntarily removed from the market meaning that they are no longer available for usage.
What does this mean for you if you have these particular implants, either for cosmetic or reconstructive reasons?
Because of the extreme rarity of BIA-ALCL, there is absolutely no recommendation to electively remove or exchange the implants. For more information on this, you can visit both the FDA as well as the Allergan websites addressing this issue. Of course, you can also contact your plastic surgeon for assistance, information and possible evaluation.
Breast Implant Size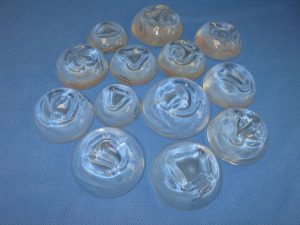 When people think of breast augmentation, this often is the number one topic of discussion. Size really does matter though it isn't the only important factor. Patients will need to determine the overall look that they want to achieve as relates to size, proportionality, projection and shape as well as the impact that their new breast size may have on other aspects of their life and lifestyle.
In my experience, most women would rather be somewhat proportional and then slightly bigger than that. Unfortunately, "proportional" is an ambiguous term and what is proportional to one person may be too small or too large (rarely) for someone else. There is also general confusion as to what appearance different cup sizes represent which is compounded by the lack of any real standards. Because of this, bras made by different companies, one a "C" and the other a "D", may fit identically. Photographs and imaging may help but even these have limitations.
If you want to learn more about implant size issues visit Dr. Turkeltaub's Blog entry "Size Does Matter."
Breast Implant Projection Style
Here are three similar sized silicone implants. The one on the left is a moderate profile implant, that on the right is high profile implant and the one behind them is an ultra-high profile implant. Note the greater the projection and narrower the width going from moderate to high and then ultra-high profile.
Implant Surface Type
Breast implants can have a smooth or textured outer envelope. There are many conflicting studies regarding whether or not there are any advantages of textured versus smooth surfaced implants particularly as relates to minimizing the rate of development of capsular contracture. With the more recent innovations made in implant technology, much of the earlier research may not be relevant. Furthermore, with the concern about the development of an extremely rare form of lymphoma, BIA-ALCL, that has only been associated with textured surfaced implants, the advisability of their usage certainly has to be called into question.
In July 2019, Allergan voluntarily recalled all their textured surfaced implants (with the proprietary name BIOCELL®) as they have been shown to have an increased risk for an association with the rare BIA-ALCL (breast implant associated anaplastic large cell lymphoma). This recall simply means that all its manufactured but unused textured implants were to be removed from the marketplace and not implanted. For those women who currently have these implants and based on all the data, it is the position of the FDA, the major plastic surgery societies and plastic surgeons that unless one is having problems, the risks associated with their removal far outweigh the extremely low risks of leaving them in and monitoring them for concerning changes.
Patients with textured surfaced implants manufactured by the companies Mentor and Sientra have also been diagnosed with BIA-ALCL but at approximately one sixth the rate as that of Allergan's. As of October 2019, these two companies have elected to continue selling their textured surfaced implants.
Dr. Turkeltaub only uses smooth surfaced implants and has been doing this for many years now.
Contact Our Practice
If you are interested in breast enhancement surgery with implants, please contact the Arizona Center for Aesthetic Plastic Surgery today. Dr. Turkeltaub looks forward to helping you achieve your cosmetic goals.