While web surfing news and political websites, an intentionally selected salacious photo on the home page of the FOX Nation grabbed my attention. In this Pic of the Day section (it actually has been there several days now and you probably can figure out why!), was a photo of a young actress showing off a large portion of her cleavage in her hot red and red hot keyhole gown (see below).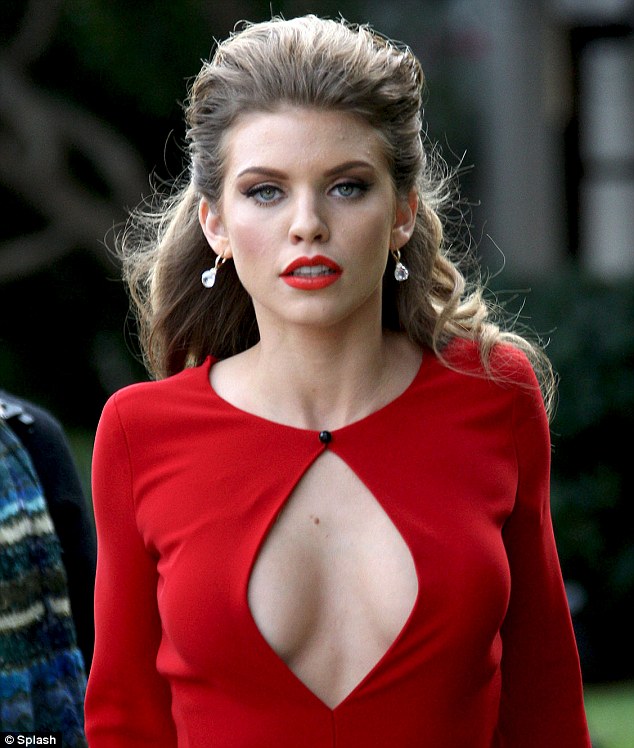 The title associated with the picture was "AnnaLynne McCord Gets Something Off Her Chest". The writers might have thought this was a cute phrase as they were referring to her recently acquired cleavage through breast augmentation surgery. Unfortunately, their phrase "Off Her Chest" was the exact opposite of what was done. Actually, the more precise description should have been "AnnaLynne McCord Gets Breast Implants For Her Chest".
You might have recognized immediately that the photo was indeed of AnnaLynne McCord from "90210" but having never watched "90210", I didn't know. It took some googling to discover exactly who she is. What I learned is that she may be more than just another beautiful face (and body) – having some acting talent (though again I wouldn't know that first hand). She does apparently devote a tremendous amount of her time to charities which is more than most Hollywood narcissists do … and that is an admirable endeavor.
However, she does need to devote a little more time and discretion about the clothes that she selects and some things which I will now discuss.
You may be wondering why I am writing about a voluptuous actress on my plastic surgery website, posting a revealing photo and even tossing in some nice comments about her. Well, here is the reason:
Her breast augmentation results as seen in this and other photos are … well, very unacceptable! And to make matters worse, she is brazenly flaunting what I consider to be a suboptimal outcome. Of course, both the less than ideal results and the ostentatious display of them are not a rare phenomenon in Hollywood.
No matter who my patients are, normal every day women or Hollywood actresses (I do have experience in this department), I would NEVER knowingly accept this inferior result in my own patients.
Yes, there are many women on whom it is impossible to obtain great, ideal or even very satisfactory breast augmentation results for a variety of reasons. However, in AnnaLynne's situation, based on her photos prior to surgery, this did not appear to be the case.
So what am I seeing in the photo?
There is a striking difference in the shape and projection of the left versus the right breast implant with the left one being less projecting. This is independent of the asymmetrical position of her shoulders. Whether or not they are situated at the same vertical height can't be ascertained by this one view. However, her revealing dress seems to accentuate the substantial disparity between sides – never a good thing.
My philosophy has always been that a breast augmentation is more than just inserting breast implants and trying to obtain a particular cup size. It is a procedure that MUST be performed with precision and this starts right in my office during the consultation. There is a very comprehensive examination that includes not only an assessment of the size of the breasts but also other issues such as their shape, location on the chest wall, asymmetries, skin tone, etc. Sizing is also done but this doesn't end in the office. I also evaluate various sizes and styles of breast implants during surgery and will use what will give my patient the best possible results based on what the goals are.
You most likely aren't an actress and probably will never be a movie star, but I sure want to make sure that the excellence of results from your breast augmentation will be what these famous actresses would have wanted (but didn't receive) as their outcome.
For more information on breast augmentation or on any other plastic surgery procedure that I perform or to schedule a consultation with me, please contact my office at 480-451-3000.
Steven H. Turkeltaub, M.D. P.C.
Scottsdale and Phoenix, Arizona