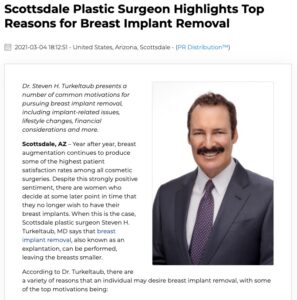 Dr. Steven H. Turkeltaub presents a number of common motivations for pursuing breast implant removal, including implant-related issues, lifestyle changes, financial considerations and more.
Scottsdale, AZ – Year after year, breast augmentation continues to produce some of the highest patient satisfaction rates among all cosmetic surgeries. Despite this strongly positive sentiment, there are women who decide at some later point in time that they no longer wish to have their breast implants. When this is the case, Scottsdale plastic surgeon Steven H. Turkeltaub, MD says that breast implant removal, also known as an explantation, can be performed, leaving the breasts smaller.
According to Dr. Turkeltaub, there are a variety of reasons that an individual may desire breast implant removal, with some of the top motivations being:
They have experienced a particular implant-related concern—such as capsular contracture, rippling, rupture, etc.—and do not wish to deal with any other potential issues in the future.
They may not be experiencing any issues or have any concerns whatsoever and just want them out at this point in their life.
They want smaller breasts to better fit physical, social, personal, and/or other lifestyle changes.
They have gained a significant amount of weight which has caused their breasts to increase in volume to the point that they are now overly large and/or heavy, potentially causing back, neck and shoulder pain.
They feel their breasts are disproportionately large for cultural tastes that have shifted toward smaller, more natural-looking breasts.
They believe the benefits of having breast implants are outweighed by the prospects of incurring future expenses in the event a possible issue occurs later in time.
They are experiencing (or would like to proactively avoid) health-related concerns they believe are attributable to breast implants, such as BII and BIA-ALCL.
"Of course," states Dr. Turkeltaub, "every patient has her own personal reasons for pursuing breast implant removal—which may or may not include these most common ones."
The Scottsdale plastic surgeon goes on to note that depending on patient preferences or concerns as well as medical indications, a surgical plan may just simply involve the removal of the breast implants or it might also involve a partial, subtotal or total capsulectomy in which part or all of the surrounding scar capsule is removed along with the implants. Frequently, he adds, a breast lift is performed concurrently in order to achieve the desired breast size with an attractive, rejuvenated shape and appearance.
"In my experience, a majority of women who chose to have their breast implants removed—regardless of the specific reason—have been very pleased with their decision," says Dr. Turkeltaub. Two important components of this, he concludes, are making sure that the patient understands the issues and has realistic expectations of the outcome of the procedure and that she selects a plastic surgeon who is skilled and experienced in dealing with explantation and related issues.
About Steven H. Turkeltaub, MD
Dr. Turkeltaub is a board-certified plastic surgeon renowned for his understanding of beauty, surgical expertise and compassionate approach to care. In addition to breast implant removal, he offers a full array of cosmetic procedures for the breasts, body and face—including breast reduction, mastopexy, abdominoplasty, liposuction, facelift surgery and more. He also performs FTM and MTF transgender top surgery, as well as non-surgical aesthetic enhancement treatments.
To learn more about Dr. Turkeltaub and his practice, please visit turkeltaub.com, arizonabreast.com and facebook.com/drturkeltaub. He is available for interview upon request.
Contact:
Arizona Center for Aesthetic Plastic Surgery
8502 E. Princess Dr.
Suite 240
Scottsdale, AZ 85255
(480) 451-3000
Rosemont Media
(858) 200-0044
www.rosemontmedia.com