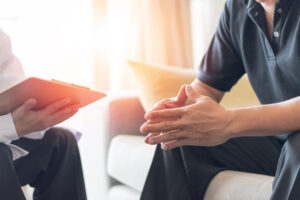 Whether you identify as a transman (FTM), transwoman (MTF), gender nonbinary (FTN) or something else, you have been dealing with gender dysphoria for a while.
Perhaps, too long.
Maybe, it is not so bad for you. Then again, it may be so problematic that you are very tired and frustrated with having to deal with it.
Regardless, you are definitely ready to pursue your gender affirming top surgery.
So, whether due to the recommendations of friends, social acquaintances, LGBTQ+ sites or from your own research, you have scheduled your consultation with Dr. Steven Turkeltaub who is Board Certified by the American Board of Plastic Surgery and specializes in gender affirming top surgery.
You are definitely excited now. (Hopefully!)
And a bit nervous.
What can and should you expect during your top surgery consultation?
Let's review the process and likely experiences that you may have so that you can be more prepared and less anxious.
Completing the Paperwork for Your Top Surgery Consultation
To make the whole process more convenient, easier and less stressful, you have the option of completing all of your consultation paperwork prior to your visit. This includes specific information related to you seeking top surgery, your general medical history and then pages of forms, consents, releases, etc. that are annoying but a necessary and mandatory evil these days.
To download your paperwork, click here then select "Top Surgery New Patient – Forms". You can then print this out, complete the forms and then bring them with you to your consultation with Dr. Turkeltaub.
Your Consultation
Sharing Your Personal Journey
You are definitely wanting to have top surgery.
During your consultation, it is important for you to share your personal story that ultimately has led up to your desire for top surgery. Some helpful information would be:
• When did you realize that there was something different about you?
• How and when did you realize that you were a transman, transwoman, gender nonbinary or other gender?
• When did you come out to your friends?
• When did you come out to your family?
• Do you bind? If so, for how long?
• Are you on testosterone or HRT? If so, when did you start?
• How long have you been living full-time as a transman, transwoman, gender nonbinary or other gender?
• Have you seen a gender therapist or therapist for your gender issues?
• Has a letter been written by them diagnosing gender dysphoria and in support of your desire to pursue top surgery?
Additional questions will likely be asked in order to obtain a more complete assessment of your personal situation.
Physical Examination
Following your initial interview and sharing of information, a physical examination will be performed.
Just what you may not have been looking forward to!
For some, this part can be quite anxiety provoking. Understandably so.
However, being able to determine what procedure would be the best one for you requires a thorough evaluation of your chest.
Obviously, you do want what would be best for you.
The approach that I employ includes a visual examination of your chest, assessment by measurements and taking pictures which do not include your face.
Discussion of Your Top Surgery Option(s)
With the information obtained from your physical examination, surgical procedure recommendations can then be made that will be based not only on the appearance and anatomy of your chest but also on your preferences. These preferences can relate to scar length and location, nipple-areola complex size, appearance and location and even the desire not to have a nipple-areola complex.
The most common surgical options for FTM and FTN gender affirming top surgery include:
• Double incision free nipple graft mastectomy
• Mastectomy without nipple-areola complexes
• Keyhole mastectomy
• Concentric circle mastectomy
Typically, there may be one or two reasonable and viable options for your top surgery. If there are at least two different options for you, each or these will be reviewed with you in detail including what is involved, the expectations, pros and cons, and relative risks and complications.
All About Your Selected Top Surgery Procedure
So you have selected the top surgery procedure that would best suit your needs and preferences based on the recommendations made during your consultation. Now what?
The top surgery procedure that you have selected will be discussed with you in great detail. For my patients, this would include such issues as what is entailed with the procedure, the operative procedure itself, dressings, drains, expected discomfort, immediate postoperative course, later postoperative course, postoperative visits, precautions, limitations of activities, driving, returning to work or school, scar mitigating agents, preparations for your procedure, risks, complications and expectations.
If you are not sure about anything whatsoever – ASK QUESTIONS!
How Best to Prepare for Your Top Surgery
You want to maximize your chances for getting the best results and minimize the risks for complications and untoward outcomes.
Obviously!
But how do you accomplish that?
By closely following the instructions that will be provided to you in preparation for your surgery.
Some of this will be discussed during your consultation but more comprehensively when you have decided to proceed with your surgery.
During your consultation, I will discuss all of the following issues that will be relevant to your particular situation:
• The importance of closely following your instructions
• The importance of following a high protein diet with nutritional supplementation (as specifically instructed), starting from around one month prior to surgery to at least one month after surgery.
• If you are a vegetarian or vegan, it is imperative that you add animal proteins to your diet starting at least one month prior to surgery to at least one month after surgery.
• Avoiding smoking, vaping and smoking marijuana starting from at least one month prior to surgery to at least one month after surgery.
• Weight loss, if needed, before surgery can be pursued.
Ask Any Questions that You May Still Have
During your consultation, you are encouraged to ask questions about anything that you do not understand or are unsure of.
No question is a stupid question.
It is very important that you have a full understanding regarding all issues related to your contemplated top surgery.
If after your consultation, you have some questions or need some help related to the surgery, you are absolutely encouraged to call us to obtain those answers and the help needed.
How to Make Your Top Surgery a Reality
When you are ready to schedule your top surgery, let us know and we will work with you to make it happen. Of course, we will require a letter from your gender therapist stating that you have gender dysphoria and that they support your desire to proceed with gender affirming top surgery.
Scheduling Your Consultation
If you have not already scheduled your consultation with me for your top surgery and are interested in doing so, please call us at the Arizona Center for Aesthetic Plastic Surgery at (480) 451-3000 or contact us by email.
Steven H. Turkeltaub, M.D. P.C.
Scottsdale and Phoenix, Arizona