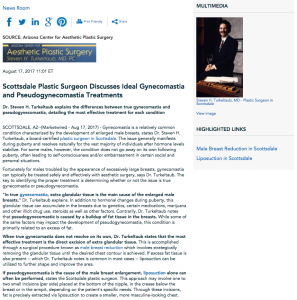 Dr. Steven H. Turkeltaub explains the differences between true gynecomastia and pseudogynecomastia, detailing the most effective treatment for each condition.
Scottsdale, AZ — Gynecomastia is a relatively common condition characterized by the development of enlarged male breasts, states Dr. Steven H. Turkeltaub, a board-certified plastic surgeon in Scottsdale. The issue generally manifests during puberty and resolves naturally for the vast majority of individuals after hormone levels stabilize. For some males, however, the condition does not go away on its own following puberty, often leading to self-consciousness and/or embarrassment in certain social and personal situations.
Fortunately for males troubled by the appearance of excessively large breasts, gynecomastia can typically be treated safely and effectively with aesthetic surgery, says Dr. Turkeltaub. The key to identifying the proper treatment is determining whether or not the issue is true gynecomastia or pseudogynecomastia.
"In true gynecomastia, extra glandular tissue is the main cause of the enlarged male breasts," Dr. Turkeltaub explains. In addition to hormonal changes during puberty, this glandular tissue can accumulate in the breasts due to genetics, certain medications, marijuana and other illicit drug use, steroids as well as other factors. Contrarily, Dr. Turkeltaub notes that pseudogynecomastia is caused by a buildup of fat tissue in the breasts. While some of the same factors may impact the development of pseudogynecomastia, this condition is primarily related to an excess of fat.
When true gynecomastia does not resolve on its own, Dr. Turkeltaub states that the most effective treatment is the direct excision of extra glandular tissue. This is accomplished through a surgical procedure known as male breast reduction which involves strategically removing the glandular tissue until the desired chest contour is achieved. If excess fat tissue is also present—which Dr. Turkeltaub notes is common in most cases—liposuction can be utilized to further shape and improve the area.
If pseudogynecomastia is the cause of the male breast enlargement, liposuction alone can often be performed, states the Scottsdale plastic surgeon. This approach may involve one to two small incisions (per side) placed at the bottom of the nipple, in the crease below the breast or in the armpit, depending on the patient's specific needs. Through these incisions, fat is precisely extracted via liposuction to create a smaller, more masculine-looking chest.
For any males interested in gynecomastia treatment, Dr. Turkeltaub recommends seeking a board-certified plastic surgeon who is skilled and experienced in both direct tissue excision and liposuction. "In many situations, it can be difficult to determine before surgery if both true gynecomastia and pseudogynecomastia are present so choosing an experienced plastic surgeon who meets this criteria can increase the likelihood that patients will obtain the results that they desire for their particular situation."
About Steven H. Turkeltaub, MD
After graduating Summa Cum Laude from the renowned six-year medical program at Boston University and Boston University School of Medicine, Dr. Turkeltaub completed his training in general surgery and plastic surgery at the University of Miami/Jackson Memorial Hospital and the University of Massachusetts Medical Center, respectively. He is certified by the American Board of Plastic Surgery, and he remains actively involved in both the American Society for Aesthetic Plastic Surgery and the American Society of Plastic Surgeons. Dr. Turkeltaub has been voted one of the "Top Doctors" in the Phoenix Metropolitan area by his peers, and he is committed to upholding the highest standards of safety and excellence in all areas of his work.
For more information, visit arizonabreast.com, turkeltaub.com and facebook.com/drturkeltaub. Dr. Turkeltaub is available for interview upon request.
Contact:
Arizona Center for Aesthetic Plastic Surgery
Scottsdale Office:
10290 N. 92nd St.
Suite 207
Scottsdale, AZ 85258
Glendale Office:
18275 N. 59th Ave.
Bldg. E, Suite 126
Glendale, AZ 85308
(480) 451-3000
Rosemont Media
(858) 200-0044
www.rosemontmedia.com