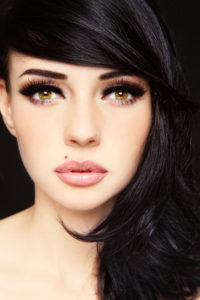 For many years, lip augmentation was not procedure associated with prudent moderation. In fact, it was all too common to see women walking around with distorted, obviously over inflated lips that garnered such terminology as "duck" or "fish" lips, sausage lips – or worse. A significant percentage of these outcomes were the consequence of the philosophy of patients that "bigger was better". Of course, a sizable number were also due to the lack of skills and basic understanding of anatomy and aesthetics by the practitioners who injected them.
With the change in cultural tastes more towards either more subtle outcomes or the "leave it alone" attitude, the frequency of seeing overinflated lips has diminished drastically.
But they are still present and often obvious even to casual glances.
So, how can you, as a patient seeking a lip enhancement, increase your odds of obtaining results that are deliriously different while still being in the realm of "natural" and you being very happy with the results?
First of all, you must have a reasonably sensible goal with regard to the desired appearance of your lips. If your idea is simply to make them a lot larger in order to be noticed, you may be unpleasantly surprised with the outcome.
You may also obtain a better, more natural result by not having too much filler, such as Juvederm®, injected at one time as this can cause distortion and other undesirable consequences. Many times, it may be more prudent to start with one syringe or even part of one and obtain a "partial" fill. If deemed appropriate, more can then be injected at a later date.
If you do know what you want but want to really save money and do it on the cheap, you are likely to be disappointed – and worse. Doing a quality lip augmentation/enhancement is not just a matter of someone injecting a filler into your lips until they are some degree of larger.
That is why there are so many substandard results walking around.
You should seek someone who has extensive experience along with obtaining quality results, who can tell you exactly which filler is right for your needs, who clearly understands lip anatomy and aesthetics, who you can feel comfortable with and who answers all your questions to your satisfaction.
Generally, you want a reputable board certified plastic surgeon or cosmetic dermatologist performing the procedure.
Be very wary of spas and clinics – for many reasons.
Over the years, the vast majority of patients that I have seen in consultation for inferior lip augmentation results or complications had their injections performed at these facilities by obviously poorly skilled and poorly trained practitioners. Many of these patients did so because they were trying to save money.
Be sensible and don't make that same mistake.
Though there are never really any guarantees, if you follow the above recommendations, you are more likely to obtain the lip enhancement that you have desired than what may occur from the alternatives decisions.
For more information on lip enhancement or any other plastic surgery procedure, or to schedule a consultation with me – which will be virtual right now – you can contact my office at (480) 451-3000 or online (for virtual consultation, click here).
Steven H. Turkeltaub, M.D. P.C.
Scottsdale and Phoenix, Arizona