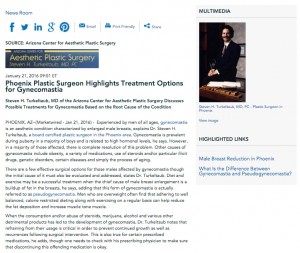 Steven H. Turkeltaub, MD of the Arizona Center for Aesthetic Plastic Surgery discusses possible treatments for gynecomastia based on the root cause of the condition.
Phoenix, AZ — Experienced by men of all ages, gynecomastia is an aesthetic condition characterized by enlarged male breasts, explains Dr. Steven H. Turkeltaub, a board certified plastic surgeon in the Phoenix area. Gynecomastia is prevalent during puberty in a majority of boys and is related to high hormonal levels, he says. However, in a majority of those affected, there is complete resolution of this problem. Other causes of gynecomastia include obesity, a variety of medications, use of steroids and/or particular illicit drugs, genetic disorders, certain diseases and simply the process of aging.
There are a few effective surgical options for those males affected by gynecomastia though the initial cause of it must also be evaluated and addressed, states Dr. Turkeltaub. Diet and exercise may be a successful treatment when the chief cause of male breast enlargement is a buildup of fat in the breasts, he says, adding that this form of gynecomastia is actually referred to as pseudogynecomastia. Men who are overweight often find that adhering to well balanced, calorie restricted dieting along with exercising on a regular basis can help reduce the fat deposition and increase muscle tone muscle.
When the consumption and/or abuse of steroids, marijuana, alcohol and various other detrimental products has led to the development of gynecomastia, Dr. Turkeltaub notes that refraining from their usage is critical in order to prevent continued growth as well as recurrences following surgical intervention. This is also true for certain prescribed medications, he adds, though one needs to check with his prescribing physician to make sure that discontinuing this offending medication is okay.
With rare exceptions such as weight loss in some individuals, Dr. Turkeltaub states that male breast reduction surgery is the definitive solution for gynecomastia. This can involve the direct excision of glandular tissue, the removal of fat via liposuction, and/or a combination of both approaches. The Phoenix plastic surgeon goes on to note that quite successful results can be achieved with these surgical techniques that lead to a significant boost in self-confidence and esteem for the individual.
Dr. Turkeltaub strongly stresses the importance of consulting with a board certified plastic surgeon who has extensive experience with gynecomastia treatment. By doing so, he states that men increase the likelihood of ultimately obtaining the results that they desire.
About Steven H. Turkeltaub, MD, PC
After graduating Summa Cum Laude from the acclaimed six-year medical program at Boston University and Boston University School of Medicine, Dr. Turkeltaub continued his education by completing a residency in general surgery at the University of Miami/Jackson Memorial Hospital as well as plastic surgery training at the University of Massachusetts Medical Center. He is certified by the American Board of Plastic Surgery, and he remains actively involved in many of the field's most esteemed organizations, including the American Society of Plastic Surgeons and the American Society for Aesthetic Plastic Surgery. At the Arizona Center for Aesthetic Plastic Surgery, Dr. Turkeltaub offers a comprehensive span of surgical and non-surgical cosmetic procedures for the face, breasts and body. He is available for interview upon request.
For more information, visit arizonabreast.com, turkeltaub.com and facebook.com/drturkeltaub.
Contact:
Arizona Center for Aesthetic Plastic Surgery
Scottsdale Office:
10290 N. 92nd St.
Suite 207
Scottsdale, AZ 85258
Glendale Office:
18275 N. 59th Ave.
Bldg. E, Suite 126
Glendale, AZ 85308
(480) 451-3000
Rosemont Media
(858) 200-0044
www.rosemontmedia.com