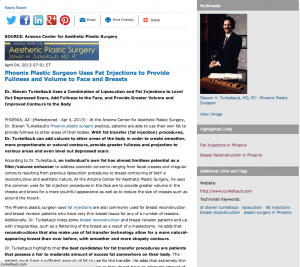 Dr. Steven Turkeltaub uses a combination of liposuction and fat injections to level out depressed scars, add fullness to the face, and provide greater volume and improved contours to the body.
Phoenix, AZ – At the Arizona Center for Aesthetic Plastic Surgery, Dr. Steven Turkeltaub's Phoenix plastic surgery practice, patients are able to use their own fat to provide fullness to other areas of their bodies. With fat transfer (fat injection) procedures, Dr. Turkeltaub can add volume to other areas of the body in order to create smoother, more proportionate or natural contours, provide greater fullness and projection to various areas and even level out depressed scars.
According to Dr. Turkeltaub, an individual's own fat has almost limitless potential as a filler/volume enhancer to address cosmetic concerns ranging from facial creases and irregular contours resulting from previous liposuction procedures to breast contouring of both a reconstructive and aesthetic nature. At the Arizona Center for Aesthetic Plastic Surgery, he says the common uses for fat injection procedures in the face are to provide greater volume in the cheeks and brows for a more youthful appearance as well as to reduce the size of creases such as around the mouth.
The Phoenix plastic surgeon says fat injections are also commonly used for breast reconstruction and breast revision patients who have very thin breast tissue for any of a number of reasons. Additionally, Dr. Turkeltaub notes some breast reconstruction and breast revision patients end up with irregularities, such as a flattening of the breast as a result of a mastectomy. He adds that reconstructions that also make use of fat transfer technology allow for a more natural-appearing breast than ever before, with smoother and more shapely contours.
Dr. Turkeltaub highlights that the best candidates for fat transfer procedures are patients that possess a fair to moderate amount of excess fat somewhere on their body. The patient must have a sufficient amount of fat to use for the transfer. He adds that extremely thin people are usually not candidates for this procedure as they do not have an adequate amount of fat necessary for proper treatment. In addition, Dr. Turkeltaub says patients should be in good overall health and maintain a wholesome diet and exercise routine.
According to the Phoenix plastic surgeon, fat injections can be performed either under local anesthesia, with or without sedation, or under general anesthesia – depending on the extent of the areas being addressed and other factors. He states that he oftentimes performs fat injection procedures in conjunction with liposuction. During these procedures, the fat is saved, collected, and then injected into the area(s) of the body the patient wants to volumize or have corrected. Rather than disposing of fat after liposuction and then harvesting more at another time for fat injections, Dr. Turkeltaub uses a technique that allows both procedures to be done simultaneously.
Ultimately, Dr. Turkeltaub notes that fat harvesting and injection techniques have improved over the years and results are now more predictable than ever before. In the end, he says some patients are better candidates than others, and who would be an appropriate candidate needs to be determined on a case-by-case basis during a consultation with a board-certified plastic surgeon.
About Steven H. Turkeltaub, MD, PC
Dr. Steven Turkeltaub is a board-certified plastic surgeon who attended Boston University and Boston University School of Medicine for a six-year medical program from which he received his medical degree. He is the author of papers, articles, and textbook chapters on plastic surgery that appear in national magazines and newspapers. Additionally, he is an active member of the American Society of Plastic Surgeons, American Society for Aesthetic Plastic Surgery, and the Arizona Society of Plastic and Reconstructive Surgeons among other prestigious medical organizations. Dr. Turkeltaub is available for interview upon request.