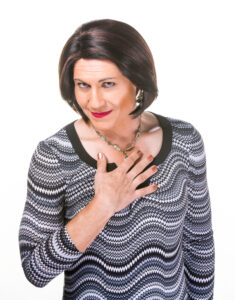 There are those who can figure things out relatively early on that they are transgender.
Like in their early teens
Others may take a few years or longer to finally piece it all together.
Some may kind of figure it out sooner but can't come to terms with the fact that they are transgender. Consequently, it can sometimes be several years before they finally accept their situation and come out.
Then there are those who over numerous years go through several relationships including even multiple marriages, until they either finally figure it out or can no longer fight their nature.
There also appears to be generational components and factors related to this. The percentage of Baby boomers identifying as LGBTQ+ is around 2.6%, for Gen X it is 4.2%, for Millennials it is 10.5% and for Gen Z it is 20.8%.
It seems that the older generations may take the longer, less linear route.
However, the reasons for this are not completely explainable. Yes, there has been a massive increase in information, publicity and awareness as relates to all things LGBTQ+. Furthermore, over the last many years, acceptance of all of this has become largely mainstream, matter of fact.
Nevertheless, these is more to this but that is a topic for another time.
Let me give you a "typical" example of a MTF transgender patient of mine who took years and years to finally figure it out.
Born as a male, she shared with me that even early on in life, she felt somewhat different. Nevertheless, she had two failed marriages as a male. These were followed by a gay relationship which still did not feel right.
Ultimately, she came to the realization at age 56 that she was transgender – a transwoman. This felt absolutely right for her and she was far happier and more comfortable with herself than ever before.
She started hormone treatments and a year and a half later, at age 58, elected to have MTF top surgery – a breast augmentation (see photos). The results were exactly what she had wanted.
She is now quite happy, more confident and comfortable with herself.
*********************************************
If you have questions regarding MTF, FTM or FTNB Top Surgery or would like to schedule a consultation with me, please call my office at (480) 451-3000 or contact us by email.
Steven H. Turkeltaub, M.D. P.C.
Scottsdale and Phoenix, Arizona