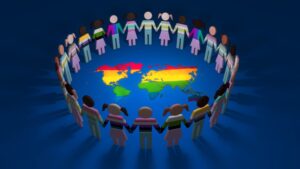 Dr. Steven H. Turkeltaub is a strong believer in the power that plastic and reconstructive surgical procedures can have to change and even transform people's lives for the better. This is probably no clearer than when he is working with transgender, nonbinary or otherwise gender non-conforming patients. When someone is born with a body that does not reflect their gender identity, it most frequently leads to severe distress, anxiety and depression along with innumerable negative impacts on their life.
Through gender nonbinary, MTF and FTM top surgery, Dr. Turkeltaub seeks to help his patients relieve their gender dysphoria and live a far happier life feeling more like their true selves. As a part of his ongoing dedication to providing superior transgender healthcare, Dr. Turkeltaub maintains membership in the World Professional Association for Transgender Health (WPATH).
What Does it Mean to Be a WPATH Member?
WPATH is an international organization dedicated to comprehensive, interdisciplinary research, education and advocacy relating to transgender health and wellness. Professionals working in a diverse range of fields—including medicine, law, social work, anthropology and speech therapy—contribute their knowledge and experience to help promote global understanding of the complex issues facing those who experience gender dysphoria. WPATH and its members firmly believe that transgender and gender non-conforming individuals deserve access to evidence-based healthcare in affirming and respectful clinical environments. The organization establishes clear ethical guidelines and ever-evolving standards of care in the hopes of promoting the health, safety and welfare of gender diverse patients around the world.
Dr. Turkeltaub has been a WPATH member for several years, and he strives to uphold the values of diversity, equity and inclusion they champion in his own practice. He is strongly committed to excellence in every aspect of his work, including providing superior results and compassionate care for all of his patients. Dr. Turkeltaub is also widely recognized for his expertise in chest and breast surgeries, enabling him to provide truly expert care for those seeking gender-affirming FTM, FTNB or MTF top surgery.
To learn more about Dr. Turkeltaub, WPATH or transgender top surgery, please contact our office today!