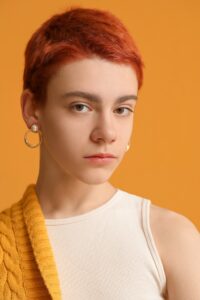 A not uncommon question that many transgender and gender nonbinary individuals and/or their families have is if there are age limits or restrictions for undergoing gender affirming surgery – whether it is for FTM, FTN or MTF. Most of the time, this is referring to minors.
At the other end of the spectrum, I am often asked by patients if they are too old to have such a procedure. These individuals may be in their 40s, 50s or even older.
Let's look into these two ends of age spectrum for gender affirming surgery top surgery.
There is no upper age limit that restricts an individual from pursuing and undergoing top surgery. That means if you are in your 40s, 50s or even older, you do have the opportunity to undergo gender affirming surgery. Of course, you must meet all the criteria for doing so which is true for all ages. That includes obtaining your letter from a mental health expert affirming gender dysphoria and supporting your desire for the surgery. Issues of general health can play more of a role at an older age versus a much younger age. However, if you are in good health, then you should be good to go.
The issue of age limits for top surgery, in reality, pertains specifically to minors, that is, those who identify as trans-masculine, trans-feminine, gender nonbinary or other and are under 18 years of age. Being a minor, there are several factors which can or will determine whether or not you can have gender affirming top surgery and even as regards with a specific plastic surgeon. Some of the limits may be flexible whereas others are completely rigid.
The primary factors that will determine whether or not you can have top surgery as a minor are:
• Parents or guardian
• Insurance company
• Plastic surgeon
• State legal statutes
If you are a minor, with rare exceptions, your parents or guardian will determine whether or not you will have the opportunity to have surgery. If they are not on board with it and won't approve you undergoing the surgery then you will just have to wait until you are of legal age. Even if they are supportive, financial issues can also make this a no go for a while.
Many insurance companies will not provide coverage for gender affirming surgery on minors. If you do want to have insurance coverage for the procedure, you will have to wait until you are 18 years old. Then, there is the issue that not all insurance plans provide coverage for this surgery independent of your age. Even with insurance coverage, though, you still may have to pay a significant chunk of change for surgery.
Plastic surgeons who perform top surgery often have differing philosophies about operating on minors. Some may only operate on those who are 17 years of age, others on those who are 16 or 17 years old whereas some would consider even younger individuals, often on a case by case basis. There are also plastic surgeons who will not perform top surgery on anyone who is a minor.
Finally, if there are legal statutes in your state prohibiting the performance of gender affirming surgery on a minor, then you are out of luck – at least in that state. There may be some legal implications of going out of state to have the surgery done so you will want to check your state's statutes. Some states will allow you to have the surgery if you are at least 17 years of age whereas there are two states that require you to be at least 21 years old before you can undergo surgery. In Arizona, you will not be able to have any gender affirming surgery as a minor starting March 31, 2023.
If you would like more information on this or are interested in scheduling your top surgery consultation, please either call our office at (480) 451-3000 or contact us by email.
Steven H. Turkeltaub, M.D. P.C.
Scottsdale and Phoenix, Arizona