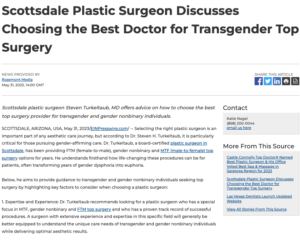 Scottsdale plastic surgeon Steven Turkeltaub, MD offers advice on how to choose the best top surgery provider for transgender and gender nonbinary individuals.
Scottsdale, AZ — Selecting the right plastic surgeon is an important part of any aesthetic care journey, but according to Dr. Steven H. Turkeltaub, it is particularly critical for those pursuing gender-affirming care. Dr. Turkeltaub, a board-certified plastic surgeon in Scottsdale, has been providing FTM (female-to-male), gender nonbinary and MTF (male-to-female) top surgery options for years. He understands firsthand how life-changing these procedures can be for patients, often transforming years of gender dysphoria into euphoria.
Below, he aims to provide guidance to transgender and gender nonbinary individuals seeking top surgery by highlighting key factors to consider when choosing a plastic surgeon:
Expertise and Experience

: Dr. Turkeltaub recommends looking for a plastic surgeon who has a special focus in MTF, gender nonbinary and

FTM top surgery

and who has a proven track record of successful procedures. A surgeon with extensive experience and expertise in this specific field will generally be better equipped to understand the unique care needs of transgender and gender nonbinary individuals while delivering optimal aesthetic results. 

Credentials and Affiliations

: Verifying that a surgeon is board-certified is a good step for anyone pursuing cosmetic surgery, says Dr. Turkeltaub. Additionally, he advises patients pursuing top surgery to consider whether the surgeon is a member of reputable organizations such as the World Professional Association for Transgender Health (WPATH), indicating their commitment to upholding the highest standards of transgender healthcare.

Personalized Approach

: Comfort is key, and Dr. Turkeltaub suggests seeking a surgeon who prioritizes individualized care and takes the time to listen to each patient's goals, concerns and expectations. 

Patient Testimonials and Reviews

: Reading testimonials and reviews from previous patients can provide valuable insight into their experiences and overall satisfaction with the surgeon. This feedback can provide helpful information about the surgeon's professionalism, communication, office environment and surgical outcomes.

Safety and Facility Accreditation

: Dr. Turkeltaub recommends ensuring that the surgeon operates in accredited surgical facilities and adheres to rigorous safety protocols. Accredited facilities offer a higher level of patient safety and are equipped with the necessary resources to handle any potential complications.

Consultation Process

: Scheduling consultations with prospective surgeons to discuss goals, ask questions and assess their communication style and overall demeanor is an important step in determining compatibility, according to Dr. Turkeltaub. A positive and supportive consultation experience can help establish trust and ensure a collaborative patient-surgeon relationship. 
Ultimately, choosing a plastic surgeon for transgender and gender nonbinary top surgery is a deeply personal decision. Taking the time to research, gather information and consult with one or more pre-screened, reputable plastic surgeons specializing in this type of care can help maximize the likelihood of a positive experience and an excellent, satisfying outcome of the gender affirming procedure. 
About Steven H. Turkeltaub, MD
Dr. Steven Turkeltaub is a board-certified plastic surgeon and the head of the Arizona Center for Aesthetic Plastic Surgery. He is dedicated to providing exceptional care and outstanding aesthetic results for transgender and gender nonbinary individuals. In addition to top surgery, Dr. Turkeltaub also offers liposuction and other ancillary body contouring procedures to further refine and obtain more global gender compatible results. He is a member of WPATH, an organization dedicated to promoting high standards of ethics, safety and evidence-based care for gender diverse individuals.
To learn more about Dr. Turkeltaub and his practice, visit turkeltaub.com, arizonabreast.com, and facebook.com/drturkeltaub, or find the practice on Instagram @drsteventurkeltaub. Dr. Turkeltaub is available for interview upon request.
Contact:
Arizona Center for Aesthetic Plastic Surgery
8502 E. Princess Dr.
Suite 240
Scottsdale, AZ 85255
(480) 451-3000 
Rosemont Media
(858) 200-0044
www.rosemontmedia.com