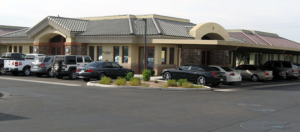 After more than thirty terrific years, the Arizona Center for Aesthetic Plastic Surgery will be permanently closing the doors to our Glendale office on Friday, November 15th. Dr. Steven Turkeltaub and our entire team are incredibly grateful to patients in and around the Glendale and the west Valley area for making our time in the community so wonderful. We truly appreciate your patronage and the lasting relationships we've made!
Fortunately, the close of our Glendale center doesn't have to mean "goodbye" — Dr. Turkeltaub will still be offering the exceptional aesthetic care you've come to expect at our Scottsdale office. Located at 8502 E. Princess Drive, Suite 240 — just west of the 101 on Princess Dr. — our Scottsdale facility has state-of-the-art amenities and is designed to optimize patient comfort, safety and privacy for office visits and various treatments that don't need to be performed at an outpatient surgical center.
Again, we would like to sincerely thank our patients from Glendale and the west Valley for helping to make our practice what it is today and hope that you will continue to seek Dr. Turkeltaub for your plastic surgery needs at our Scottsdale location.
For more information or if you wish to schedule a consultation with Dr. Turkeltaub, please don't hesitate to contact the Arizona Center for Aesthetic Plastic Surgery online or by phone today at (480) 451-3000.