What Are JP Drains?
Drains used in surgical procedures are typically special tubes that provide a means for fluid that can accumulate in surgically created sites to exit and be collected in a container. Their purpose is to minimize the risk of fluid being retained in a closed wound, known as a seroma, which can lead to deformity, swelling, infections and other undesirable issues.
Jackson-Pratt drains, often referred to as JP drains for short, are one of the most commonly used drains for many plastic surgery procedures (Photo 1). They are very effective in reducing the risk of developing seromas in a wide range of cosmetic procedures.
The JP drain is connected to a container known as a "bulb" that collects the fluid in a closed system (Photo 2). This allows for precise measurements of the drainage amount and monitoring volume over time, information that is necessary to evaluate progress and to help determine when the drains can be removed.
Will I Have Drains With My Surgery?
Drains are used in some surgical procedures virtually all of the time whereas they are used occasionally, rarely or not at all in other procedures. Their usage is based on a variety of factors such as the risk for fluid accumulation, data, individual patient factors and the personal experience and preference of the plastic surgeon.
JP drains are used virtually all of the time with tummy tucks, lower body lifts, panniculectomies, explantations and capsulectomies. They are occasionally used with breast reductions and in gynecomastia surgery and essentially never with breast augmentations and breast lifts.
The need for a drain for your surgery generally will be discussed during your consultation.
How Do I Measure and Record Drainage Amounts?
Aided by bulb suction, fluid empties through the drain and collects in the attached bulb which has measurement lines on it. You can either use these markings to determine the drainage amount in cc's or empty the contents into a small measuring cup and then read and record the amount on a chart (which is usually provided).
This is very easy to do once you actually see it in person. Most commonly, your recovery room nurse will show you and the person with you how this is all done. A chart is also provided on which you can record the data, keeping 24 hour totals for each drain. If you don't receive a chart, it gets lost or there is some other issue, you can click here for a PDF of the chart.
The following briefly describes the process:
 Wash your hands with soap and water
 Next, take the cap off from the drain bulb and pour the contents into a small medical measuring cup that is marked in milliliters (mL or cc's). This measuring cup is usually given to you in the recovery room. If you weren't given one, you can also estimate the drainage amount using the numbers on the side of the bulb.
 Record the drainage amount in milliliters (mL) on a chart with the appropriate date and time (see below). It is recommended that you try to keep totals as close to 24 hour periods as possible for each day.
Lastly, squeeze the bulb fully in order to create a vacuum and then place the cap back on the bulb.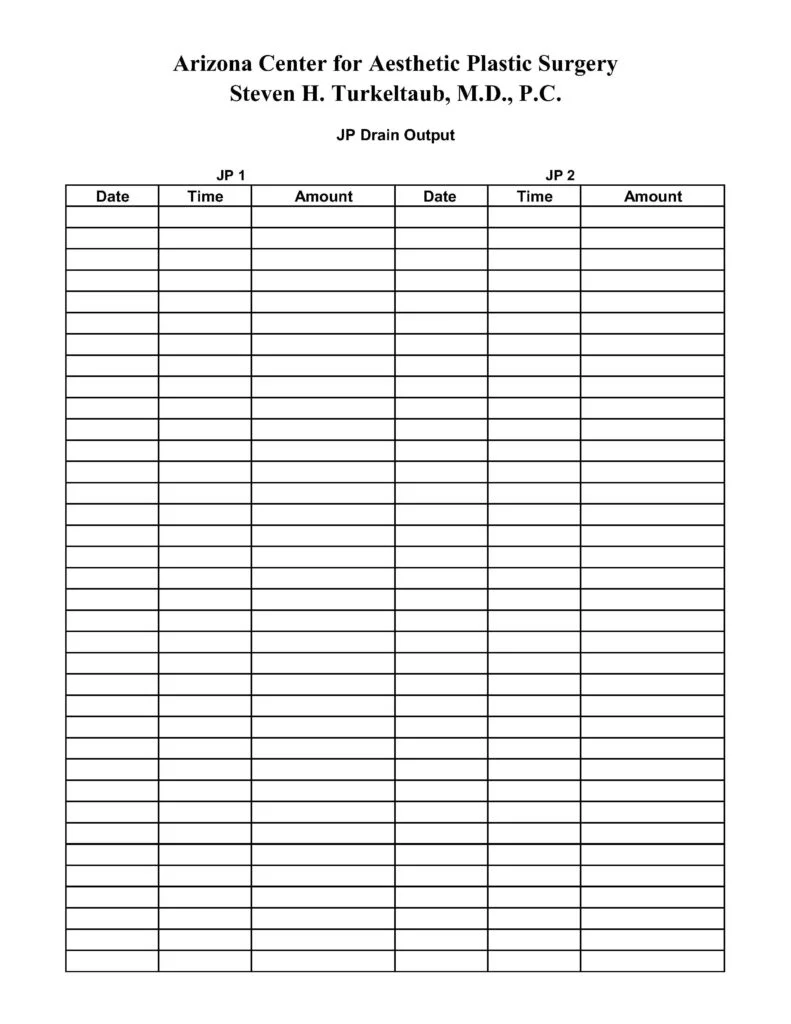 For the first several days following your surgery, you may need to do this a few times a day. With decreasing drainage amounts, you can reduce this to one or two times a day.
How Do I Take Care of My Drains?
The skin around the drain site should be kept clean in order to prevent bacteria from getting into the wound site. You can clean the area with an alcohol swab and then place a sterile gauze around the skin opening.
To minimize discomfort at the drain site, avoid any tension on the drain. This can also help to reduce the risk of the drain getting pulled out accidentally. Ways to accomplish this include pinning the bulb to you clothes such as your jeans or placing the bulbs in a special supportive garment (Photos 3 and 4).
Try to keep the tubing covered by your clothes. Exposed tubing has an uncanny ability to get snagged on door knobs, handles and other projecting objects which can lead to them accidentally getting pulled out.
And, it won't feel very pleasant either!
How Long Do I Have to Have My Drains in For?
How long the drains are left in place varies widely, depending on several factors including the specific plastic surgery procedure done, individual patient characteristics, activity level and even the plastic surgeon's criteria and discretion. It can range from several days up to two to three weeks or more.
Can I Go Out While Still Having Drains?
Having drains in place should not restrict you from doing a variety of activities such as going to work (sedentary), school, the store, a restaurant, etc. There are exceptions especially as relates to more vigorous types of activities.
When you do go out, make sure that the drains are covered by loose fitting clothing and that they and the bulbs are well secured and stabilized.
Any questions relating to this, please ask.
How Painful is it to Have My Drains Removed?
For most patients, removal of the drains is either painless or associated with brief, relatively mild discomfort.
Just don't request the door knob removal technique!
The openings at the drain sites will automatically close within a few days. They can leak fluid during this period of time so you will need to place a gauze over the area (and change as needed) until it stops.
The Bottom Line on Your JP Drains
Although your drains can be annoying, irritating and a hassle, they absolutely play an important role in your postoperative healing process.
By adhering to the postoperative instructions and guidelines provided you, including the drain management, you can help reduce the time that the drain(s) will need to be in place.
Scheduling Your Consultation
If you have any questions about the above or would like to schedule your plastic surgery consultation with Dr. Steven Turkeltaub, please call us at the Arizona Center for Aesthetic Plastic Surgery at (480) 451-3000 or contact us by email.
Steven H. Turkeltaub, M.D. P.C.
Scottsdale and Phoenix, Arizona