At the Arizona Center for Aesthetic Plastic Surgery, we are now offering you an additional treatment option to the very popular and effective Juvederm® and Restylane® for the correction of moderate to severe facial wrinkles and folds: Belotero Balance®. This is the newest hyaluronic acid dermal filler to be approved by the FDA and one that has been successfully used for many years in Europe and elsewhere.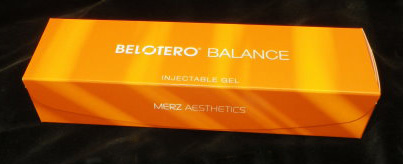 Just like those other two fillers, Belotero Balance® consists of hyaluronic acid, a substance that is a normal and critically important component of our tissues and is ,therefore, safe and non-toxic. However, it is not just another dermal filler that you can choose from among many. Though it can be used for treating the same areas as Juvederm® and Restylane®, it is also designed to fill an important niche that these two other fillers can't address very well: the softening and filling of fine lines of the face. This would include such areas as the crow's feet at the corners of the eyes and smoker's lines of the lips.
The reasons that Belotero Balance® can provide a better result, one without the lumpiness or incomplete corrections that the others are associated with, is because it is specially formulated to have a thinner, softer consistency. This also allows it to be injected more superficially in the tissues where it can be much more effective.
The following are some of the common areas that Belotero Balance® can be used for in the treatment of lines, creases and wrinkles as well as for the addition of volume:
•    Nasolabial folds (the "parentheses") which extend from the nose to the corners of the mouth
•    "Marionette" lines which go from the corners of the mouth downward to the jaw and chin
•    "Crow's feet" lines (laugh lines) located and extending out from the corner of the eyes
•     Vertical "smoker's lines" of the lips
•     Vertical "frown" lines on the forehead
•     Lip augmentation
•     Other creases or areas of depressed contour of the face
•     Areas of the face needing more projection such as the chin or cheekbones
For lip augmentation, I have found that it does offer a more "gentle" appearing result with a feel that is softer than both Juvederm® and Restylane®. Its duration should be similar to these two other dermal fillers.
In areas that may require more firmness and resistance to tissue forces, Juvederm® and Restylane® would be better choices. Of course, we would discuss all your options and recommendations would be made prior to formulating your own personalized treatment plan. Botox® can also be used at the same time.
If you would like more information on Belotero Balance®, Juvederm® or Restylane®, or for any other plastic surgery procedure that I perform, you can call my office at 480-451-3000. We would also be happy to schedule a complimentary consultation for you at that time as well.
Steven H. Turkeltaub, M.D. P.C.
Scottsdale and Phoenix, Arizona