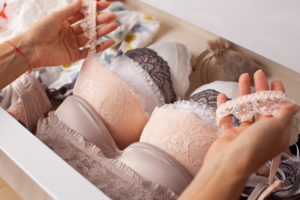 Breast sagging—medically referred to as breast ptosis—is completely natural and something that virtually all women with at least a moderate amount of breast tissue will eventually experience at some point in their lives. A few of the most common causes of breast ptosis include:
Gravity and Aging – Breasts are made up of glandular tissue, supportive ligaments and fat. Over time, the downward pull of gravity combined with the natural process of aging causes supportive structures and tissue to stretch and lose elasticity, gradually leading to breast drooping. This process is more substantial and accelerated by larger, heavier breasts.
Improper Support – Habitually wearing bras that do not provide adequate support for your breasts or not wearing one at all can lead to sagging over time. This is worsened considerably more if you play sports and/or exercise regularly as physical activity causes the breasts to move freely in various directions, slowly stretching out ligaments when proper support is not utilized.
Pregnancy and Weight Fluctuations – Weight gain caused by pregnancy, breast milk production and/or diet can lead to stretching of breast skin and tissue, typically resulting in some degree of ptosis when the weight is lost and breastfeeding is complete. Generally speaking, the more pregnancies you have, the more likely you are to experience these effects. Greater weight fluctuations usually worsen the extent of this.
Smoking – In addition to harming the lungs, heart and many other organs and tissues of the body, smoking cigarettes damages one's elastin, which is the protein responsible for skin elasticity. Without strong elastin the breasts will begin to sag.
Excessive Exposure to Ultraviolet Rays – Much like smoking, harmful UV rays from the sun and tanning booths can break down the body's elastin. As a result, excessive exposure damages the body's tissues including elastin, expediting breast drooping and an aged appearance. It is important, therefore, to religiously use sunscreen, wear sun protective clothing and avoid tanning booths altogether.
Can Breast Sagging Be Prevented?
Although some elements that contribute to breast ptosis are impossible to avoid, breast sagging can often be staved off—and sometimes ultimately limited—by eating healthily, limiting weight fluctuations, wearing properly supportive bras, not smoking, minimizing sun overexposure and avoiding tanning booths.
But what can you do if you are already experiencing breast sagging?
Fortunately, breast lift surgery (mastopexy) is an excellent, effective solution if you are bothered by your droopy breasts and want then to regain a more youthful, perkier and firm appearance. Treatment involves the removal of excess skin and the lifting and reshaping of breast tissue and nipple areolar complexes for a more ideal shape and position on the chest.
If you are interested in breast lift surgery, board-certified plastic surgeon Steven Turkeltaub, MD would be happy to meet with you in person to discuss your aesthetic concerns and develop a customized treatment plan that can help you achieve the look that you desire. To schedule a consultation, simply contact our practice online or by telephone today.