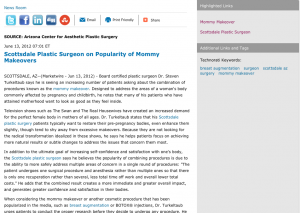 Scottsdale, AZ — Board certified plastic surgeon Dr. Steven Turkeltaub says he is seeing an increasing number of patients asking about the combination of procedures known as the mommy makeover. Designed to address the areas of a woman's body commonly affected by pregnancy and childbirth, he notes that many of his patients who have attained motherhood want to look as good as they feel inside.
Television shows such as The Swan and The Real Housewives have created an increased demand for the perfect female body in mothers of all ages. Dr. Turkeltaub states that his Scottsdale plastic surgery patients typically want to restore their pre-pregnancy bodies, even enhance them slightly, though tend to shy away from excessive makeovers. Because they are not looking for the radical transformation idealized in these shows, he says he helps patients focus on achieving more natural results or subtle changes to address the issues that concern them most.
In addition to the ultimate goal of increasing self-confidence and satisfaction with one's body, the Scottsdale plastic surgeon says he believes the popularity of combining procedures is due to the ability to more safely address multiple areas of concern in a single round of procedures: "The patient undergoes one surgical procedure and anesthesia rather than multiple one so that there is only one recuperation rather than several, less total time off work and overall lower total costs." He adds that the combined result creates a more immediate and greater overall impact, and generates greater confidence and satisfaction in their bodies.
When considering the mommy makeover or another cosmetic procedure that has been popularized in the media, such as breast augmentation or BOTOX® injections, Dr. Turkeltaub urges patients to conduct the proper research before they decide to undergo any procedure. He stresses the need to be treated by a board-certified plastic surgeon and one who is reputable. With the rigorous and ongoing training requirements and strict code of ethics, Dr. Turkeltaub says that a plastic surgeon not only has the experience to help mothers choose the right combination of procedures to properly address their concerns, but the proven techniques to help make those aesthetic enhancement goals a reality.
About Steven Turkeltaub, MD
After earning his medical degree at the Boston University School of Medicine, Dr. Steven Turkeltaub completed a residency in general surgery at the University of Miami/Jackson Memorial Hospital and the Northwestern Medical Center. He then completed his plastic surgery residency at the University of Massachusetts Medical Center. Dr. Turkeltaub is a member of the American Society of Plastic Surgeons, the Arizona Society of Plastic and Reconstructive Surgeons, and the Arizona Medical Association.
Aesthetic Plastic Surgery has two locations: the Glendale office is located at 18275 N. 59th Ave. Bldg. E Ste. 126, Glendale, AZ 85308; the Scottsdale office is located at 10290 N. 92nd St., Ste. 207, Scottsdale, AZ 85258. Dr. Turkeltaub and his team can also be reached at (480) 451-3000, or found online at turkeltaub.com, arizonabreast.com, or the Scottsdale Plastic Surgery Facebook page.