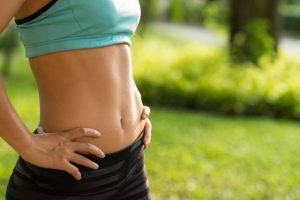 Liposuction can be an effective treatment option for men and women wanting to eliminate stubborn pockets of localized fat in order to obtain an improved body contour. Based on the specific needs and desires of the individual, this fat reduction procedure can be utilized to remove diet and exercise resistant fat from areas such as the neck, chest, back, abdomen, flanks, love handles, hips, knees and more.
Results can usually be seen immediately and will continue to become even more apparent with resolution of the normal postoperative swelling.
But are they permanent?
The answer to this question is that if you maintain your weight, the outcome should be quite long lasting if not permanent. The reason for this is that liposuction permanently removes and/or destroys fat cells which leads to a slimmer, more sculpted appearance. However, there are still fat cells present in these areas which can enlarge in the future as a consequence of weight gain. Therefore, by maintaining a relatively stable weight through a balanced diet and appropriate exercising, you can maximize the probability of the liposuction results being long lasting.
For answers to other questions about liposuction or to schedule your consultation with our board-certified plastic surgeon, Dr. Steven H. Turkeltaub, please feel free to contact our practice today at 480-451-3000.