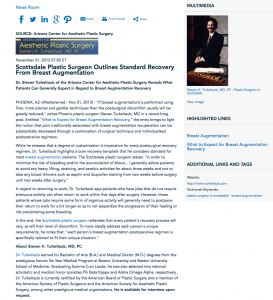 Dr. Steven Turkeltaub of the Arizona Center for Aesthetic Plastic Surgery reveals what patients can generally expect in regard to breast augmentation recovery.
Phoenix, AZ — "If [breast augmentation] is performed using finer, more precise and gentler techniques then the postsurgical discomfort usually will be greatly reduced," writes Phoenix plastic surgeon Steven Turkeltaub, MD in a recent blog post. Entitled "What to Expect for Breast Augmentation Recovery," the entry brings to light the notion that pain traditionally associated with breast augmentation recuperation can be substantially decreased through a combination of surgical technique and individualized postoperative regimens.
While he stresses that a degree of customization is imperative for every postsurgical recovery regimen, Dr. Turkeltaub highlights a core recovery template that he considers standard for most breast augmentation patients. The Scottsdale plastic surgeon states: "in order to minimize the risk of bleeding and/or the accumulation of blood…I generally advise patients to avoid any heavy lifting, straining, and aerobic activities for about three weeks and not to take any blood thinners such as aspirin and ibuprofen starting from two weeks before surgery until two weeks after surgery."
In regard to returning to work, Dr. Turkeltaub says patients who have jobs that do not require strenuous activity can often return to work within five days after surgery. However, those patients whose jobs require some form of vigorous activity will generally need to postpone their return to work for a bit longer so as to not jeopardize the progression of their healing or risk precipitating some bleeding.
In the end, the Scottsdale plastic surgeon reiterates that every patient's recovery process will vary, as will their level of discomfort. To more ideally address each person's unique requirements, he notes that: "each person's breast augmentation postoperative regimen is specifically tailored to fit their unique situation."
About Steven H. Turkeltaub, MD, PC
Dr. Turkeltaub earned his Bachelor of Arts (B.A.) and Medical Doctor (M.D.) degrees from the prestigious honors Six-Year Medical Program at Boston University and Boston University School of Medicine. Graduating Summa Cum Laude, he was also selected into national scholastic and medical honor societies Phi Beta Kappa and Alpha Omega Alpha, respectively. Dr. Turkeltaub is currently certified by the American Board of Plastic Surgery and a member of the American Society of Plastic Surgeons and the American Society for Aesthetic Plastic Surgery, among other prestigious medical organizations. He is available for interview upon request.
For more information about Dr. Turkeltaub and his Phoenix plastic surgery practice, visit turkeltaub.com, plus.google.com/103406849320161533475/about, and facebook.com/drturkeltaub.
Contact:
Arizona Center for Aesthetic Plastic Surgery
Scottsdale Office:
10290 N. 92nd St.
Suite 207
Scottsdale, AZ 85258
Glendale Office:
18275 N. 59th Ave.
Bldg. E, Suite 126
Glendale, AZ 85308
(480) 451-3000
Rosemont Media
tom@rosemontmedia.com
(858) 200-0044
www.rosemontmedia.com