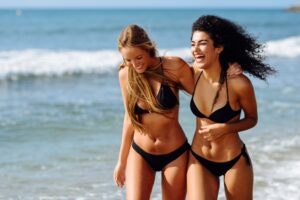 Many patients seek to have tummy tuck surgery as a way to eliminate excess fat and skin that has accumulated after significant weight loss and/or pregnancy. However, in some cases, Dr. Turkeltaub may suggest a mini tummy tuck, which can provide the patient with the results they desire through a less extensive and less "invasive" procedure.
A mini tummy tuck may be ideal if the patient's area of concern involves the lower abdomen — below the belly button — and the issues are isolated to this area. If so, Dr. Turkeltaub can remove the loose skin and stubborn fat in this area using an incision smaller than what is required for a traditional tummy tuck. Most often, tightening of the muscles in the lower abdomen is also performed. Postoperative discomfort is typically significantly less than that experienced with a standard tummy tuck.
If redundant skin, excess fat and loose or separated muscles are present in the upper abdominal region as well, a traditional tummy tuck is the most appropriate surgical option. This can help ensure that all concerns are addressed and that the patient's aesthetic goals can be achieved.
Compared to a mini tummy tuck, patients should anticipate a longer recovery period and a lengthier scar. However, the results from this procedure can be extremely satisfying with the vast majority of patients feeling that their slimmed and shapely outcome was well worth the resulting downtime and longer scars. Furthermore, Dr. Turkeltaub takes great care to place incisions in such a way so as to allow scars to be easily concealed beneath most undergarments or swimwear. He also provides recommendations to help his patients obtain the most inconspicuous scars possible.
If you are interested in a tummy tuck or mini tummy tuck, please do not hesitate to contact Dr. Turkeltaub and schedule a consultation. During your consultation, he can answer your questions and determine which procedure can best address your concerns.